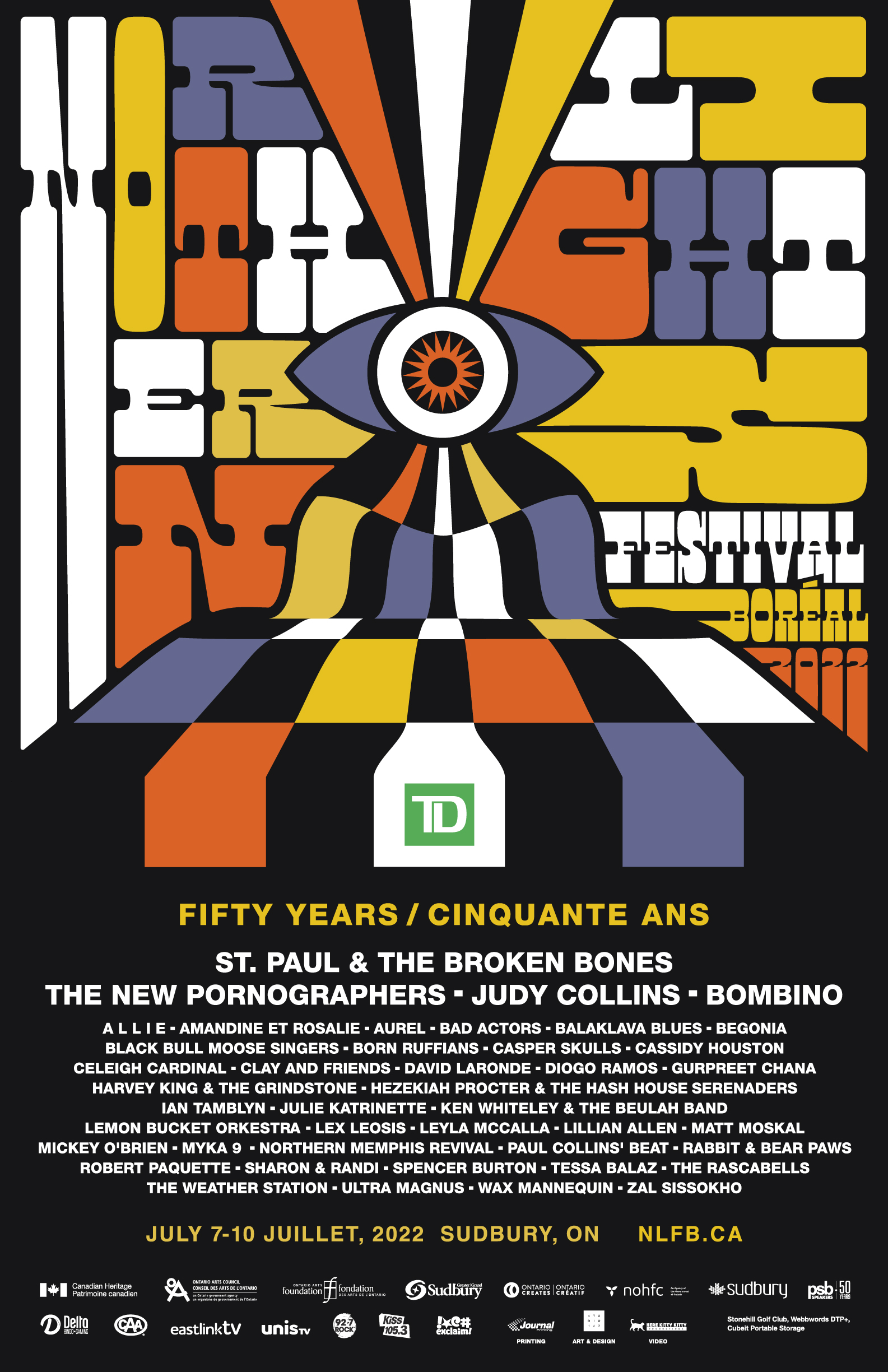 May 10/22
NLFB 50 Full Schedule is out: St. Paul & The Broken Bones, The Weather Station, Born Ruffians, and more
Diverse roster celebrates the past, while looking to the future…
When a group of creative, young people came together in 1972 to create the single day 'Northern Lights Folk Festival', they may not have known that this special event would strike a chord with so many, and blossom into today's Northern Lights Festival Boréal (NLFB). As a colourful, ongoing chapter in the history book of the Canadian music scene, NLFB has been host to countless special events: a young Shania Twain, performing as child; the creation of Stan Rogers' iconic folk song 'Barrett's Privateers', and many others.  The festival has grown to encompass even more musical styles, including hip-hop, indie, rock, pop, R&B, experimental, and more, alongside its traditional 'bread & butter' folk & global music offerings. 
In March, NLFB organizers released the first round of a diverse lineup of influential and innovative artists, including indie rock supergroup The New Pornographers, American folk/pop icon Judy Collins, African guitar tour-de-force Bombino, and 24+ others. NLFB organizers are ecstatic to announce the addition of Saturday headliner, Alabama soul & indie rock sensation St. Paul & The Broken Bones, as well as Born Ruffians, The Weather Station, Begonia, Balaklava Blues, and more. The full lineup, schedule, and tickets are all now available at nlfb.ca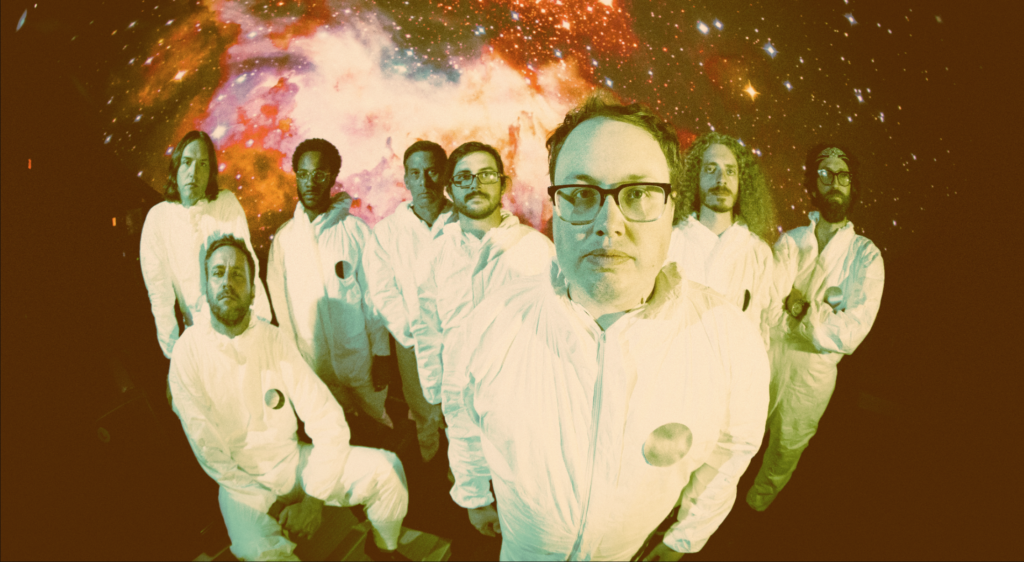 St. Paul & The Broken Bones are a world-renowned 8 piece band based in Montgomery, Alabama, with soul as the backbone, while extending into indie rock, psychedelia, and beyond. They've released four full-lengths, have done all the major TV appearances (Letterman, Colbert, Kimmel, Conan etc.) and have played the world's major festivals (Coachella, Bonnaroo, Glastonbury etc.). Now they bring their explosive and ever-evolving sound to Sudbury's Grace Hartman Amphitheatre on Saturday, July 9. Tickets are available at nlfb.ca.
A fever dream in sonic form, St. Paul & The Broken Bones' new album The Alien Coast represents the most adventurous and original output yet from an ever-evolving musical powerhouse. In a profound shift for the Alabama-bred eight-piece, the band's fourth full-length and first for ATO Records strays far from the time-bending soul of past work like their 2014 debut, arriving at a convergence of soul and psychedelia, stoner metal and funk. At turns explosive, elegant, and unhinged, that sound makes for a majestic backdrop to St. Paul & The Broken Bones' visceral exploration of the strangest dimensions of the human psyche. Produced by Matt Ross-Spang (Elvis, John Prine, Jason Isbell), The Alien Coast is the first album St. Paul & The Broken Bones have ever recorded in their hometown of Birmingham. In creating the ultra-vivid dreamscape threaded throughout The Alien Coast, the band's chief lyricist drew inspiration from such disparate sources as Greek mythology, dystopian sci-fi, 17th century Italian sculpture, and colonial-period history books.
Added to the Friday, July 8th Main Stage lineup will be Toronto indie rock band Born Ruffians, who will also appear in a festival workshop performance with other artists. The band was originally formed in the Georgian Bay town of Midland, ON, quickly making waves across the country and beyond. They went on to tour with such artists as Franz Ferdinand, Peter Bjorn and John, Caribou, and more. Throughout 2021-2022 the band released a trilogy of records: Juice, Squeeze, and Pulp. "An abundance of good material, that's what we had," reads a release from the band, "We didn't set out to write a trilogy. We just wrote a lot of songs that we liked and it seemed a shame to bury any of them. So, early on in our recording process we looked at this great big list of all the songs and said 'let's break this up into three records'." Born Ruffians will appear alongside artists such as Bombino, Paul Collins' Beat, and Leyla McCalla as a fresh addition to the festival's Friday night Main Stage.
The Weather Station, project of Toronto songwriter Tamara Lindeman, will be featured on the festival's Canvas Cabaret stage on Sunday, July 10th. Ignorance, the new album by The Weather Station, has remade what the project sounds like once again. Lindeman has used the occasion of a new record to create a new sonic landscape, tailor-made to express an emotional idea.
Emerging out of Toronto's vibrant folk scene, Lindeman debuted a moody, introspective sound with her independently released East EP in 2008. Her LP The Line followed in 2009, expanding on an earthy, lyrical style, driven by her distinctive fingerpicked guitar and banjo parts. For the next Weather Station release, Lindeman worked with friend and collaborator Daniel Romano, signing with his You've Changed Records label to release the critically acclaimed follow-up, All of It Was Mine, in 2011. Lindeman earned a SOCAN Songwriting Prize nomination in 2013 for a co-write with Steven Lambke of the Constantines. After the release of 2014's What Am I Going to Do, with Everything I Know EP, she signed with North Carolina label Paradise of Bachelors and traveled to Paris to record her third LP, Loyalty. It became somewhat of a critical breakout album. Lindeman followed up in 2017 with an eponymously titled LP that saw an expansion of the Weather Station sound into more rock-oriented territory. Now in 2021, Lindeman leads us into a brilliant and bold new sonic landscape with Ignorance. The record continues to garner accolades, having landed at #1 on the Canadian Indie Label Chart with Pitchfork giving the single "Robber" a spot on their "The 100 Best Songs of 2020".
NLFB is also thrilled to announce the addition of acclaimed synth-pop-soul artist Begonia to Thursday's night mainstage, supporting headliner The New Pornographers. Noisey wrote that, "Begonia has one of Canada's most extraordinary voices, and thankfully she uses it to obliterate the misery from this world one live performance at a time." The Winnipeg-based Alexa Dirks is a Juno Award winner with her former group Chic Gamine. Her  first solo output with her 2017 debut EP, Lady in Mind, was well-received and she went on to release her audacious debut full-length album Fear in September 2019. Fear is a deeply personal album bursting with ruminations on solitude, self-doubt, anxiety, and panic, all bundled up in that serene feeling that comes with an artist fully embracing their past and present self. It was nominated for a JUNO Award for Adult Alternative Album Of The Year and was longlisted for The Polaris Music Prize. It was one of Exclaim!'s Most Underrated Albums of the Year. It also spent 10 straight weeks as the #1 album in Canada on Earshot's Top 50 chart.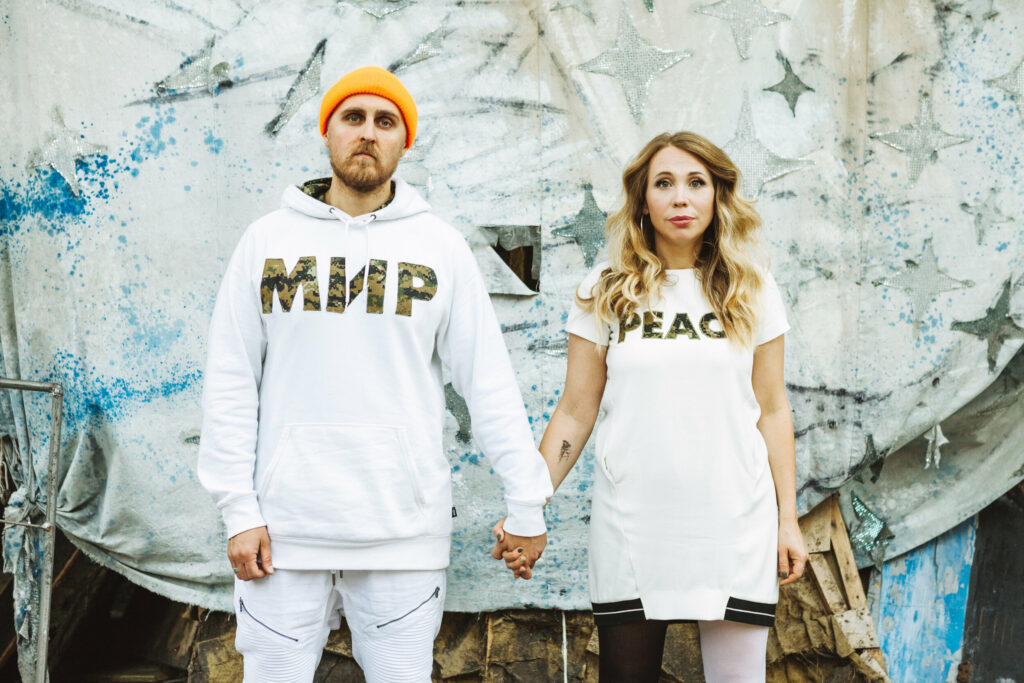 Balaklava Blues is the brainchild of Mark and Marichka Marczyk, creators of the multi-award winning guerrilla-folk-opera Counting Sheep and leaders of the mighty Lemon Bucket Orkestra, also appearing at the festival.  Falling somewhere between a traditional song cycle and a full blown multimedia techno show, the duo fuses Ukrainian polyphony and other folk traditions with EDM, trap, dubstep, and more as a launching pad to explore the  seemingly never-ending blues that have long emanated from the Ukrainian steppe. The two met there during the 2014 revolution of dignity and ever  since, have dedicated their creative energy to telling the stories of their home country to the world. "Balaklava Blues music  is a reclamation of the violence perpetrated on my home country," says Mark Marczyk, who spent years back and forth between Ukraine and Canada  before meeting Marichka there. "We want to redesign and remix physical  and psychological oppression and question how and why it continues to  inform who we are and what we can become." Balaklava Blues are scheduled to appear on NLFB's Canvas Cabaret stage, Saturday, July 9th.
These are just some of the featured artists that have been added to the schedule of rough 45 acts, in roughly 100 performances. Also appearing will be: Juno nominated R&B innovator a l l i e;  Canadian Folk Music Award winning folk-country songwriter Spencer Burton; lyrical folk storytellers Bad Actors (formerly of Sudbury 'bloodgrass' band Murder Murder); and Canadian Folk Music Award nominated, Indigenous singer-songwriter David Laronde from Temagami, ON; and more.  As is a signature of the festival, several themed 'workshop' performances will group together artists from different acts for special, collaborative appearances. Some of the workshop themes planned for 2022 include a special '50th' workshop featuring songs tied to the festival's history, as well as: 'Celebrating our Heroes Departed', 'Global Percussion', 'Festival Tales', 'The Cypher: Freestyle Session' and 'Trad Tunes'.  Tickets, information and the full schedule/lineup can be found at nlfb.ca – with tickets at the following Sudbury outlets: The Refinery (Notre Dame), Jett Landry Music (Lasalle), The Townehouse Tavern (Elgin), A&J Home Hardware (Bouchard), and Walden Home Hardware (Reg. Rd. 24).