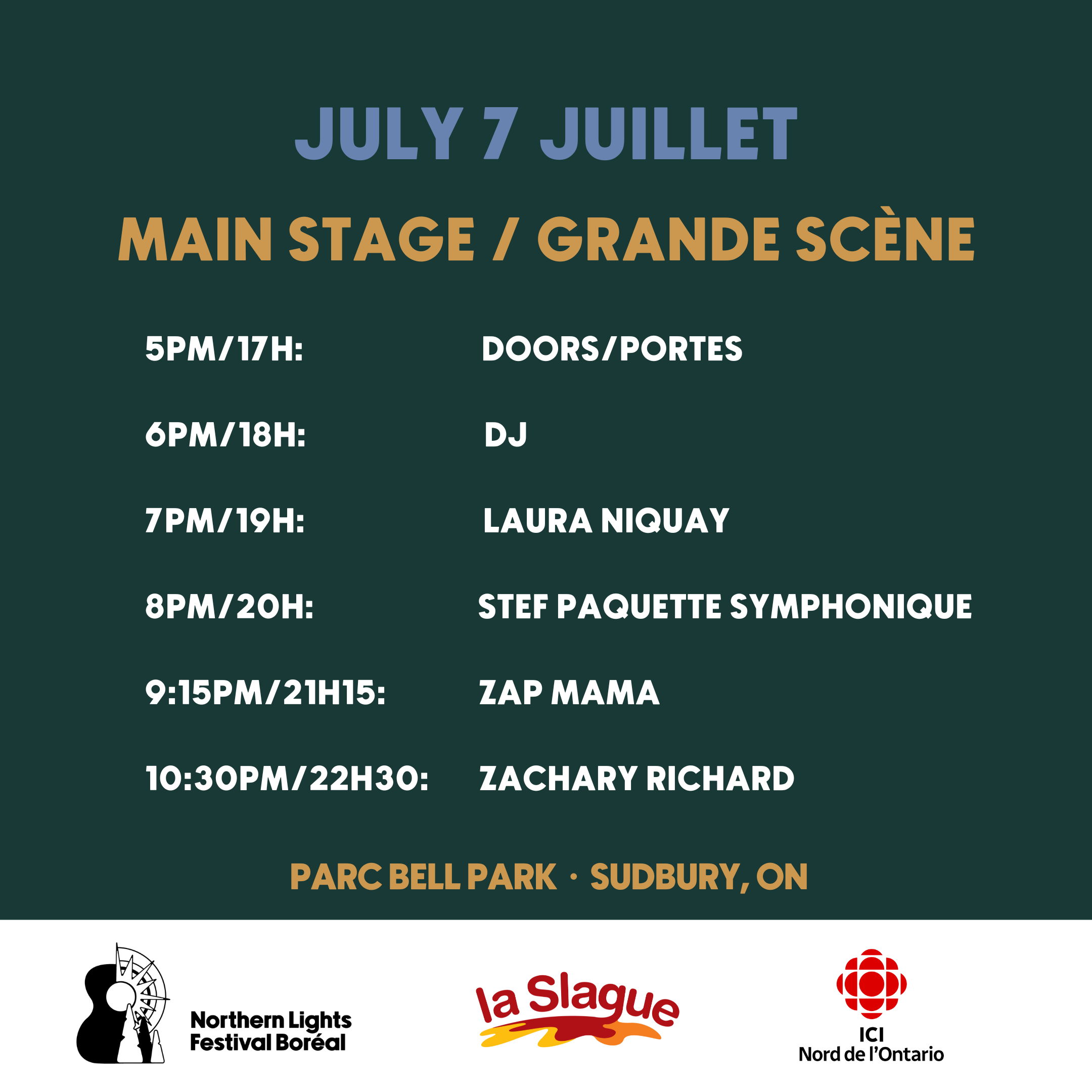 Jul 05/23
Northern lights celebrates francophone artists with acclaimed Friday lineup
Sudbury, ON festival celebrates a tradition of presenting diverse francophone talent 
Summer is here and that means it's festival season. Northern Lights Festival Boréal is Canada's longest running bilingual music festival, taking place in Sudbury, ON's beautiful Bell Park, this Thursday, July 6th to Sunday, July 9th. The festival began as a single-day folk fest in 1972, and has evolved and developed into a diverse presenter of countless styles of music, and a festival experience like no other. This year, the festival has partnered with francophone music presenter La Slague, and Radio Canada, in order to present a collaboratively curated roster of francophone artists, on the Festival's Main Stage, this Friday, July 7. It will feature: Zachary Richard, Zap Mama, Stef Paquette, and Laura Niquay. 
Northern Lights has proudly presented dynamic and creative francophone musicians since the festival's early days. Artists such as Robert Paquette, Cano, Steven Faulkner, Bertrand Gosselin, and many others graced the festival's stages in their formative years – going on to impactful and influential careers. This year, NLFB is beyond thrilled to bring back an iconic Louisiana artist, poet, and musician who last played the festival in 1987: Zachary Richard.
Singer-songwriter, poet, cultural activist, environmentalist, Zachary Richard is best known as a recording artist and performer. With 20 albums on his roster, including several gold and platinum, his musical career is international. In March 1997, he was decorated as an Officier de l'Ordre des Arts et Lettres of the Republic of France. That same year, he was initiated into the Ordre des Francophones d'Amérique by the government of Québec. During his career he has received four honorary doctorates from the University of Moncton, the University of Louisiana at Lafayette, l'Université Ste. Anne and the University of Ottawa. Fiercely attached to the French language and Acadian culture of his native Louisiana, Zachary Richard is the author of four children's books as well as four volumes of poetry), and the History of the Acadians of Louisiana (UL Press). He is Louisiana's first French Language Poet Laureate. In 2009, he was made an honorary Member of the Order of Canada for his contributions as an author, composer, singer and poet, and for his important role in defending and promoting the French language and the "Cadian" and Acadian identity. His music ranges from lyrically rich singer-songwriter, to up-beat zydeco, Cajun, and beyond – a true master at work, and having fun doing it.
Northern Lights Festival & La Slague feel fortunate for this rare chance to present Grammy-nominated, Afro-European musical innovator Zap Mama. Zap Mama is internationally renowned for her flamboyant energy. Her performances are
captivating with a combination of multicultural vocal prowess, dance and humour. She has performed on some of the world's most iconic stages: from New York's Central Park, Lollapalooza Chicago to the Olympia in Paris to the Montreux Jazz Festival. She is a singer, songwriter for film and documentary activist and lecturer on Ethno Vocal Therapy. She's released 9 diverse and powerful albums, with the most recent being "Odyssée" (2022). For 2023, Zap Mama presents an exciting live show, celebrating a 25+ year career. She has collaborated with a diverse, spectacular list of creative minds including Hans Zimmer with producer Tom Cruise, Erykah Badu, The Roots, Sergio Mendez, Will.I.Am, Bobby Mcferrin, Al Jarreau, Vincent Cassel M. Kasovithch, A. Morisette, Oumou Sangare, and countless others. Festival organizers describe her music as a "breath of fresh air", and her live show as one not to be missed.
Also performing in this special Friday night lineup is Sudbury native Stef Paquette. A natural showman with a wacky sense of humour, Stef Paquette loves being on stage and his audiences love seeing him there. Alone with his guitar and harmonica or along with his band, he has been crisscrossing Canada for years, playing countless festivals, concerts and major events. In 2015, Stef Paquette garnered the Trille Or (French Ontario's music industry awards) for Best Male Performer as well as nominations for the Best Singer-Songwriter and the Radio-Canada Public's Choice awards. For this occasion, Paquette will enlist members of the Sudbury Symphony Orchestra to add stirring orchestral elements to his songs.
Boldly creative, Indigenous singer-songwriter Laura Niquay will also be part of the Friday lineup. Winner of the Félix for Indigenous Artist of the Year at the ADISQ Gala, of the Teweikan in the Folk category, Best Performance and Jury's Favourite Award at the Teweikan Gala; and winner of the TD Aboriginal Songwriter Award from the SOCAN Foundation, Laura Niquay is an Atikamekw artist from Wemotaci in Mauricie. She distinguishes herself by her incomparable voice and lyrics sung in her native language: Atikamekw. On stage, the show is vibrant and energetic, taking the audience on a live rollercoaster of emotions. Audiences will be hypnotized by her sincere delivery, and her power as a representative of her culture.
On Friday July 7, once the festivities have concluded on-site, the festival continues in downtown Sudbury, at the legendary Townehouse Tavern on Elgin St. Mehdi Cayenne returns to Sudbury, having been a favourite of both La Slague and Northern Lights in the past. Buckwild, beaming and disarmingly vulnerable, Mehdi Cayenne is a punk-funk crooner like no other. He's been developing his intense and luminous approach over four albums so far – earning awards and rave reviews here and abroad. With thousands of shows under his belt, from kindergarten gymnasiums to state prisons all the way to world-class festivals and 4000-seater venues, he's paid dues all over Canada, as well as in France, Belgium, Switzerland, Italy, Luxembourg, and Armenia. His latest LP "Radio Batata" was co-produced with Olivier Fairfield (Fet Nat), Mark Lawson (Arcade Fire, Colin Stetson), and Nico Quéré (Arctic Monkeys, Nick Cave); Mehdi has also opened for a wide variety of artists, from US Girls and Safia Nolin, Sam Roberts Band to Saul Williams, Imarhan to A Tribe Called Red. Dressed in black but radiating generosity, Mehdi will come back to Sudbury to unveil a dancing maelstrom of new songs this summer, mixing dazzling alt-pop with diaspora blues, masterfully delivered with precise and mind-blowing stage presence. Northern Lights audiences will be among the very first to discover these infectious and atypical songs – all taken from a new album to be released in the fall of 2023. Bring your dancing shoes, and welcome to the Cayenne Club!
Of course, the francophone talent is not only confined to the Friday night lineup. Northern Lights' one-of-a-kind workshop performances will feature some of the mentioned artists. Mehdi Cayenne will join members of influential Canadian indie-rock band FemBots, and others, for a workshop entitled 'Bandmarks: songs related to Canadian landmarks'. Stef Paquette will join Canadian folk icon Valdy, Sudbury's The Cloves, and ol' time, eccentric trio Sheesham & Lotus & 'Son for 'Festival of Friends', for a workshop performance celebrating songs relating to friendship. In these exclusive performances, artists will often provide more background on the music than in a regular concert, and often spontaneous jamming and collaboration ensues.
In addition to all of this, Franco-ontarian singer-songwriter Léona (Marie-Claire Cronier) will bring her distinct blend of yé-yé, garage and psychedelic rock, for performances on Saturday and Sunday. Stef Paquette will also unite with friends and longtime collaborators Édouard Landry and Dayv Poulin to become Les Bilinguish Boys, a hilariously engaging trio that blends their successful solo projects to create a unique cocktail of vocals, guitars, improv and comedy. 40 + more dynamic and inspiring artists are featured in the 2023 festival lineup, including headliners Sloan, The Strumbellas, Mountain City Four and Martha Wainwright.
In addition to the festival's official streaming playlists Northern Lights has produced an official festival mobile app, which is the interactive guide to all festival programming. It is available now in the Apple and Google Play stores – simply search "NLFB". Festival fanatics can preview festival music, customize their own schedule of music for the weekend, check out the colourful list of vendors and more. The app will be updated regularly with festival news, new content and any event changes or announcements.
Northern Lights has also announced high-value off-site camping and hotel packages and discounts for travelers. There are exclusive hotel rates, offered in partnership with the Hilton Garden Inn Sudbury, as well as camping packages including off-site campsites at Mine Mill Campground. These packages include not only discounted accommodations, but also discounted rates on the festival passes.
The festival kicks off on Thursday, July 6 at the Grace Hartman Amphitheatre. Information and tickets/packages can be found at nlfb.ca.
—-
Schedule: nlfb.ca/schedule
Lineup: nlfb.ca/artists