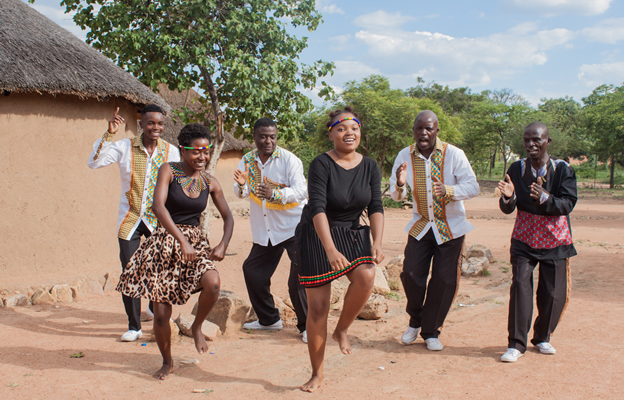 Oct 04/22
Zimbabwe's Black Umfolosi promises to delight at Northern Lights fundraiser event.
Dec. 3 concert to feature award winning song and dance group, live at Collège Boréal's concert hall.
Northern Lights Festival Boréal's (NLFB) 50th anniversary festival was a historic event in July, and the organization is carrying that energy forward into its 2022-2023 season. On December 3rd, NLFB presents southern African group Black Umfolosi live in concert, for a special NLFB fundraiser show, sponsored by Collège Boréal. Expect beautiful, rich harmony vocals and vibrant dance, in a similar style to groups such as Ladysmith Black Mambazo. This special event takes place at Collège Boréal's concert hall (21 Lasalle Blvd. – rear entrance), with tickets and information now available at www.nlfb.ca/tickets.
Black Umfolosi are Zimbabwe's greatest ambassadors, performing music inspired by the traditional song and dance of their native southern Africa, with a beauty and enthusiasm that is unrivalled. The group has become a crowd favourite around the world with audiences of all ages and cultures, due to their natural ability to communicate, and the passion and feeling in their performances.

Formed in 1982, the group takes its name from the Umfolozi Omnyama River in South Africa to where their ancestors can be traced. Since their genesis, the group has continued to grow in strength. Specializing in imbube music, gumboot and Zulu dance, Black Umfolosi have toured extensively throughout the globe. Their performances are energy-driven and completely engaging, mixing a great gentleness of spirit and song with an exuberance in dance. Their trademark harmonies mixed with intricate rhythms, clicking and clapping, are highlighted during their brilliantly choreographed shows – with a full range of movements from subtle to vibrant stomping and leaping! Their famous gumboot dances are a highlight of their shows, showcasing the traditions of southern African mining regions. Their powerful, and most recent album Washabalal'umhlaba, was released in 2020. The title translates as "The Earth Perishes", an expression of concern regarding climate change and the environment. The group has represented Zimbabwe at international events such as Expo 1992 in Seville, Spain and the 1994 Commonwealth Games in Victoria, Canada. They have also founded an arts centre in their native home of Zimbabwe, which has become an incubator for southern African arts, culture, and tradition.
This is a beautiful and rare performance not to be missed. The concert is a 'dry', all-ages event, with non-alcoholic beverages and snacks available. Doors are at 7pm, with the show starting around 8pm. Tickets are $35.00 (including HST) and are available at nlfb.ca/tickets, and at the following outlets in Sudbury: The Northern Lights Festival Boréal office (19 Grey St. Suite 3), Jett Landry Music (1119 Lasalle Blvd.) and A&J Home Hardware (469 Bouchard St.). NLFB would like to give special thanks to Collège Boréal for their support of this event. For more information please visit www.nlfb.ca or contact 705-674-5512.