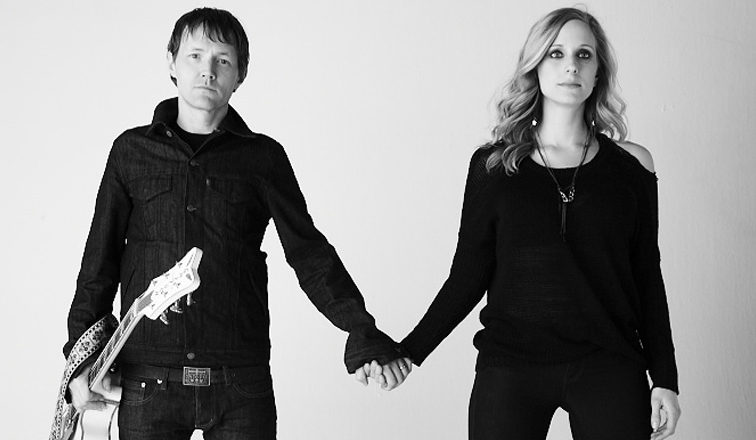 Mar 09/17
Whitehorse, TUNS, Bixiga 70 and more announced for NLFB 2017!
March 9th, 2017: Northern Lights Festival Boréal is already knee-deep in preparations for the 46th edition, taking place July 7th, 8th and 9th in Sudbury, ON. NLFB is beyond excited to share a few of the acts that are set to take the stage at Bell Park, including the Juno award-winning duo, Whitehorse. Also playing the upcoming festival will be TUNS, Bixiga 70, Jenny Ritter, Louis-Philippe Gingras, Leonard Sumner and Shotgun Jimmie. Previously announced artists include: Yukon Blonde, Rae Spoon, and Annie Sumi. 
Whitehorse was formed in 2010 by musicians Luke Doucet and Melissa McClelland. The two toured in each other's bands for years, but they put aside their award winning individual careers to build a new band out of their exceptional guitar playing, 'his and her' harmonies and a flair for dramatic, narrative songwriting. The band has since been nominated for the Polaris Short List (2013). They have played sold out shows across Canada, and have established themselves internationally as a musical force to be reckoned with. Their sophomore album, Leave No Bridge Unburned won the Adult Alternative Album of the Year at the 2016 Juno Awards, and their new EP, The Northern South Vol.1 has been nominated for the Blues Album of the Year at the 2017 Juno Awards. A new album, Panther in the Dollhouse, is set to be released May 12th, 2017. Whitehorse will headline Sunday July 9th of NLFB 46, and are guaranteed bring the house down.
TUNS are a supergroup featuring Canadian rock legend Chris Murphy of Sloan, Mike O'Neill of The Inbreds, and Matt Murphy of The Super Friendz. Combining 90s power-pop with straight-up rock & roll, their debut album boasts some of the catchiest rock songs of the last year. There's no doubt that TUNS are going to be a highlight of this year's festival.
NLFB are absolutely privileged to welcome Bixiga 70 to the festival, hailing all the way from São Paulo, Brazil. Coming from diverse musical backgrounds, a meeting of musicians involved in the city's avantgarde pop, jazz, dub and Brazilian scenes, results in the 10-piece set, trying to blur boundaries in space and time. With their genre-spanning mix of afro-beat, Guinean malinké, Brazilian candomblé, samba and cumbia, Bixiga 70 are a welcome addition to any party. Dancing is mandatory!
Montréal based Louis-Philippe Gingras is first and foremost a musician. After studying jazz at university he returned to his native Abitibi and began writing lyrics – and that's when the fun began. His latest, Troisième rangée, was released in November 2016. A departure from the country music he is most associated with, Gingras approaches each song as a world in and of itself: be it a sea shanty embellished with the lavish instrumentation of chamber music, or good ol' driving rock with a solemn touch of brass. As a performer he is eccentric, eloquent, moving, witty, and often hilarious.
Leonard Sumner is an Anishinaabe MC/singer/songwriter from the Little Saskatchewan First Nation, located in Interlake Region of Manitoba. He provides perspective from a voice often unheard and over-looked in the traditional music communities: truthful, insightful, and providing a new sound straight from 'the Rez'. He blends hip-hop, country and rhythm & blues with a message of social justice, indigenous rights, and empowerment. Sumner has proven himself to be a powerful, unique voice that NLFB is proud to amplify.
Over the years, NLFB has become known for featuring the finest in contemporary folk music. Keeping that tradition alive, NLFB is thrilled to bring Jenny Ritter and her band to Bell Park, to appear in performances and workshops. Ritter creates intricate and unique pop-tinged landscapes, accented by evocative lyrical imagery. Originally from Vancouver Island, she is a seriously accomplished instrumentalist, and supports her crisp, sweet vocals with complex banjo and guitar parts. Her music is the perfect soundtrack for sunny afternoon, spent lounging on a picnic blanket with friends.
Unofficial mascot of the indie-rock ethos is the Sudbury-beloved Shotgun Jimmie. Jimmie is a one-man-indie-rock-band known for his charming wit, and playful spirit. He is no stranger to the North, and NLFB is excited to finally have him grace the festival stages.
Advance tickets to the festival are available at:
Gloria's Convenience (469 Bouchard)
Jett Landry Music (1119 Lasalle)
Old Rock Roastery (212 Minto)
Townehouse Tavern (206 Elgin)
Fromagerie Elgin (5 Cedar)
all Home Hardware locations in Greater Sudbury.
Northern Lights Festival Boréal continues to innovate each year with an eclectic program of indie, roots, world music, as well as visual arts, workshops, family entertainment and more, making it a unique celebration of community and culture. Every year, the festival awards the Jackie Washington award, recognizing outstanding contributions to arts and culture in Northern Ontario, with past recipients including Willie P. Bennett and Charlie Angus. Over the years NLFB has grown into a seasoned presenter of Canadian roots and modern music, and a lightning rod for the energy of Northern Ontario's artistic community.
Inventing tradition, fostering innovation, celebrating community, since 1972.