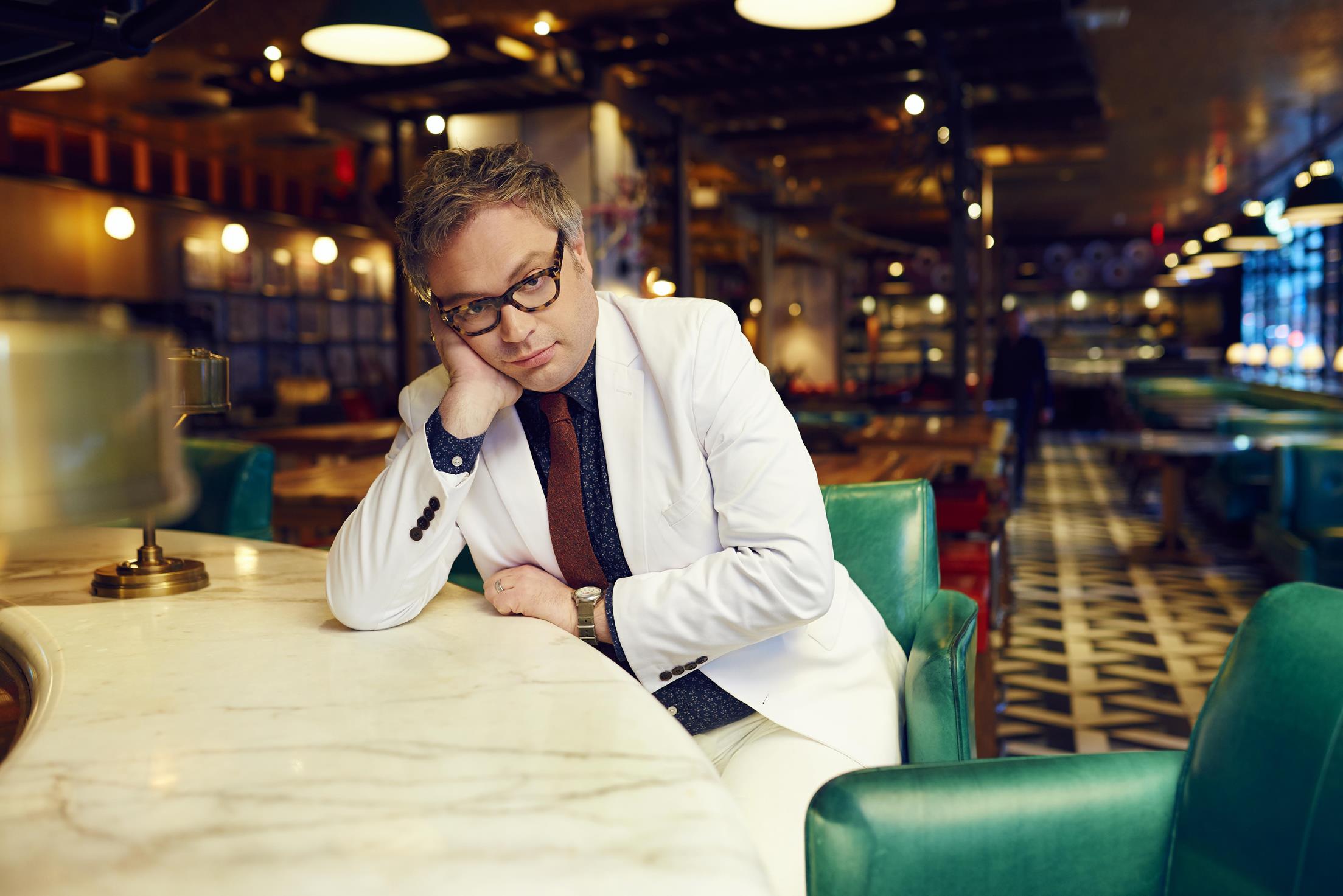 Jun 20/16
Canadian musical icon Steven Page to close out the 45th edition of NLFB
Sudbury, June 20, 2016: The organizers of Northern Lights Festival Boréal are very excited to announce a late addition to the festival's musical programming. Steven Page has been a household name in Canada for the better part of the past 30 years, first as the frontman of national treasure Barenaked Ladies (with whom he's sold over 15 million records worldwide), and since 2009 with his solo career. He'll be playing at the Grace Hartman amphitheater on Sunday July 10th to wrap up the 45th edition of Canada's oldest continuously operating music festival. He will be joined by Craig Northey of Odds and multi-instrumentalist Kevin Fox. 
Steven Page is no stranger to Northern Lights Festival Boréal, having played Bell Park at the 2012 edition, and at this point, his reputation as one of the best live acts on the Canadian circuit precedes him. His new record, Heal Thyself Pt. 1: Instinct, co-produced with his good friend Craig Northey, is the next logical step for Page: a mature exploration of what a three-minute pop song can be, a perfect blend of folk-rock sensibilities and his tongue-in-cheek songwriting, along with tight, efficient production.
Steven Page's folk-rock-pop gems and legendary down-to-earth personality are the perfect addition to an already heavy-hitting lineup, which includes Canadian fiddle royalty Natalie MacMaster & Donnell Leahy and the smooth virtuosity of singer-songwriter Bahamas, as well as many other great acts for Sudbury audiences to discover (and fall in love with), including: Minotaurs, les Hôtesses d'Hilaire, Gypsy Kumbia Orchestra, and many more. This year's festival also includes a strong contingent of local artists including Murder Murder, Matt Foy, and Kate Maki. As per usual, the two main festival stages will be supplemented in the daytime by the Workshop Stage, where artists are invited to collaborate (sometimes for the first time), the Family stage, and the improvised General Store stage. The full music schedule is all available on NLFB's brand-new website, nlfb.ca.
Of course, the music is only a part of the festival experience; the NLFB Arts Village will once again be anchored by Myths and Mirrors Community Arts, but will also feature soapstone carving, spoken word and poetry, loom weaving, projection art, and much more. Workshops will allow festival-goers of all ages to learn get a taste for carpentry, zine-making, and more
Northern Lights Festival Boréal is happy to bring in a new main stage beer sponsor. Joining our local beer heroes Stack Brewing will be Bracebridge's Muskoka Brewery, one of Canada's fastest growing craft breweries, who are incidentally celebrating their 20th anniversary this year. Not only does this increase the diversity of products on offer in NLFB's beer gardens, but it also makes these offerings more locally sourced than ever before.
Want to get involved? NLFB is always looking for more volunteers to help make the magic happen. Vendor submissions for for artisan, retail, food and non-profit vendors are still being accepted. All information and tickets can be found at nlfb.ca.