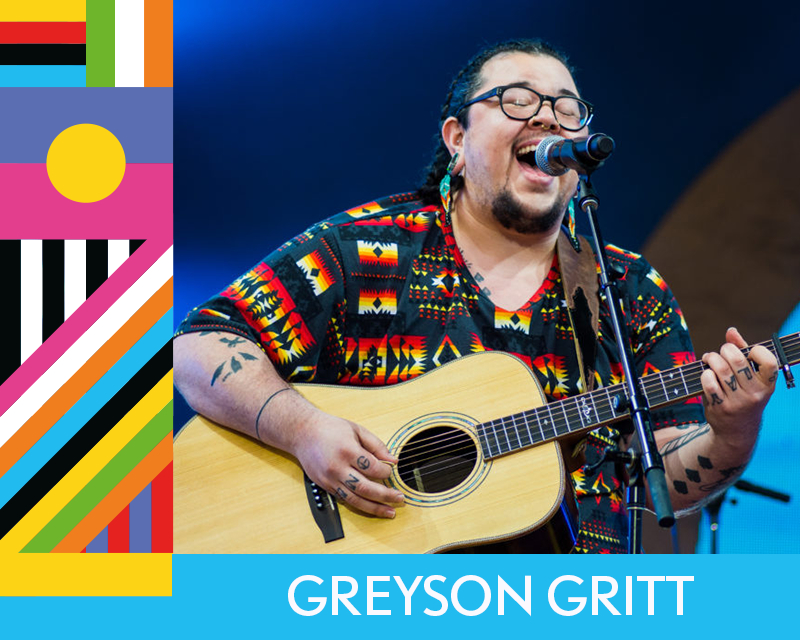 Greyson Gritt
Greyson Gritt was born on the Canadian Shield, raised on a dirt road, and lives as a sub-arctic folk-blues musician in Yellowknife, NWT. With a mouthful of soul and a truckload of blues, this queer Anishinaabe-Métis songster was nominated for Best Blues Album at the Indigenous Music Awards in 2017 and is a member of the JUNO award-winning group Quantum Tangle.







Quantum Tangle combines the wide-ranging artistic visions of Greyson Gritt and Tiffany Ayalik who draw from their respective Anishinaabe-Métis and Inuit backgrounds to create a fusion of old-world sounds and new-world flair. After their 2016 EP Tiny Hands won the JUNO for Indigenous Album of the Year, Quantum Tangle followed it up with a dynamic full-length debut for Coax Records, Shelter as we go…. Quantum Tangle was chosen to be one of the featured artists on the From The North/Canada 150 tour that reached the three northern provincial/territorial capital cities, along with Ottawa, Montreal and Vancouver.
Additionally, Greyson Gritt's skills at sketch writing and musical direction/composition were showcased in comedy legend Mary Walsh's stage production, Canada, It's Complicated, which toured coast to coast to coast throughout the autumn of 2017. Greyson's diploma in Techniques de sonorisation et d'enregistrement musicale à l'Institut d'enregistrement du Canada and experience as a Professional Sound Technician has given them the opportunity to compose soundtracks for short films, record live sound for film and television productions, and provide sound editing and design for film, television and live stage productions, such as the television show Wild Kitchen, which airs on the First Nations Experience, the short Little Man which won Audience Favourite at the Dead North Film Festival and sound design for Mary Walsh's Canada, It's Complicated.
In 2019, Greyson is writing a new solo album and finishing up recording and editing a new Quantum Tangle collaboration album.
Note: Admission also includes The Young Novelists performance.