Jul 04/16
Northern Lights Festival Boréal Takes Place This Weekend
45th Festival Lineup is Feast of Music & Art
Sudbury, July 4th, 2016: Sudbury's Northern Lights Festival Boréal is coming up this weekend. The festival headliners include: multi Juno winner Bahamas, fiddle royalty Natalie MacMaster & Donnell Leahy, as well as former Barenaked Ladies frontman Steven Page. July 8-10, the event will include: 6+ stages, 50+ artists, and 100+ performances, featuring music & arts for all tastes.
The headline acts celebrate some of Canada's best and brightest musically, however organizers are doing everything they can to spread the word about some of the other musical acts with a bit less name recognition. "This festival is as much about discovering new music, as it is about hearing artists you know and love," says Max Merrifield, Executive Director of Northern Lights, "There are so many mind-blowing acts this year, guaranteed to become new favourites for many."
Gypsy Kumbia Live from Gypsy Kumbia Orchestra on Vimeo.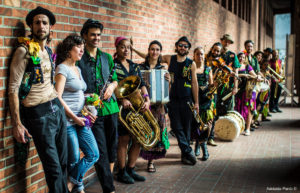 One such act is Gypsy Kumbia Orchestra, who has a main stage performance on Sunday the 10th, but appears in workshops and on other stages throughout the weekend. In recent years, large 'party orchestras' such as the Melbourne Ska Orchestra have been major highlights of the festival, and GKO continues in that vein. Merrifield refers to them as the 'perfect festival act'. Their music is a high energy mix of Afro-Colombian rhythms and Eastern European melodies, and their stage show combines dance, theatrics, acrobatics, and even hula hoop. "Prepare to dance, laugh, and scream for more," says Merrifield.
Have you ever wondered what it would sound like if you mixed the funky, electronic sounds of artists like Daft Punk with Congolese rhumba, Afro-beat, and other African styles? Whether you have or not, the result is infectious. That result is Montréal's Afrikelektro, guaranteed to move crowds and please the senses. In 2011, Lionel Kizaba arrived in Montréal from the Democratic Republic of Congo, and decided to use his background in jazz and gospel drumming to forge a new sound. The live show is an Afro-futuristic dance party, complete with costumes and choreographed dance.
Toronto folk quintet Union Duke have already cultivated a healthy Sudbury following with their modern interpretation of bluegrass and country. Sweet harmonies and catchy hooks meet top-notch musicianship and a sharp pop sensibility. Fans of groups such as Mumford & Sons, The Lumineers, and the The Strumbellas are sure to love Union Duke's show, as are fans of more traditional bluegrass and country music.
The 45th festival's lineup is so diverse and jam packed with talent that is is impossible to touch on all of the musical surprises that await. There's the reggae, blues, groove of Digging Roots, the psychedelic rock and cultural commentary of Les Hôtesses d'Hilaire, and the hard-edged folk and outlaw country of Murder Murder. All are prime examples of the musical patchwork that makes up a great festival roster.
The 45th festival will be held July 8-10 at Sudbury's Bell Park.  Over the years, NLFB has grown into a seasoned presenter of Canadian roots and modern music, and a lightning rod for the energy of Northern Ontario's artistic community. All festival information including ticket purchasing can be found online at www.nlfb.ca. 
-###-