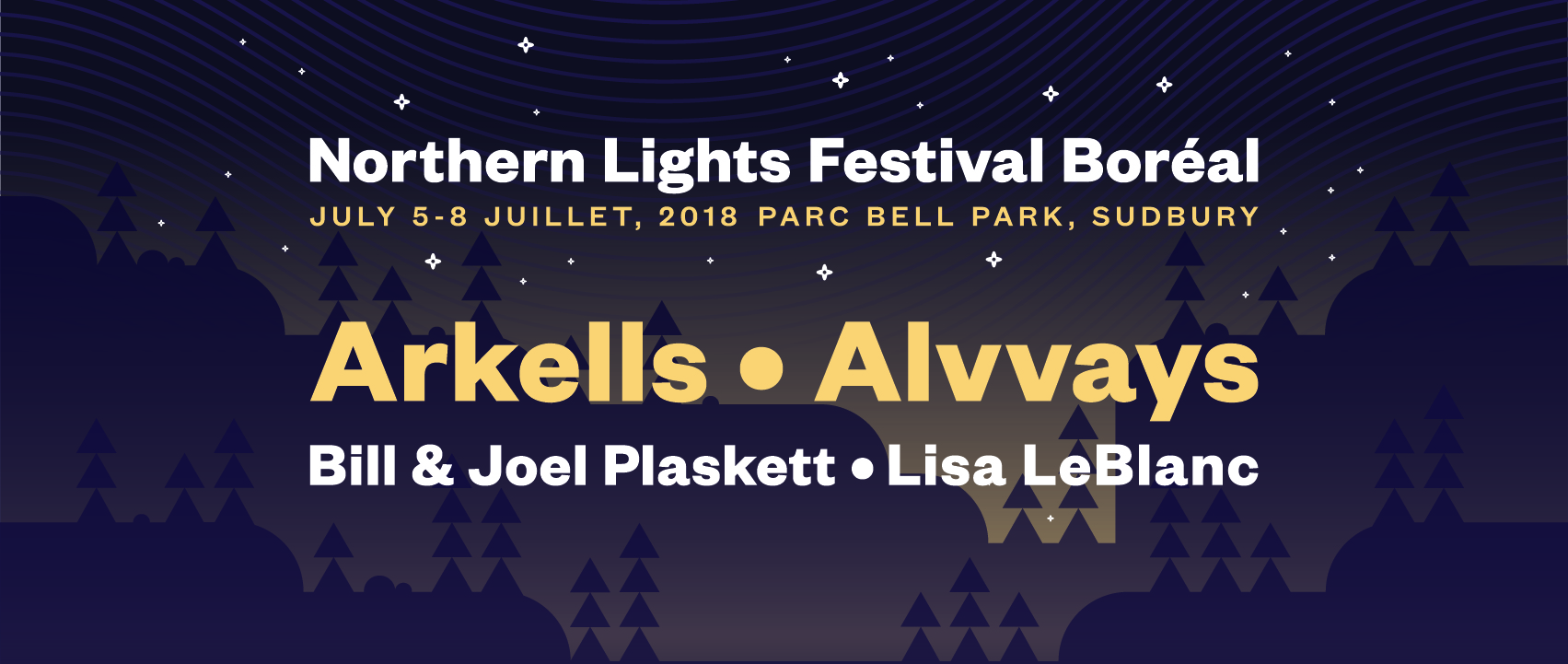 May 17/18
Festival adds more lineup, full schedule, cruises, accommodation packages + more!
It seems like just days since Sudbury's Northern Lights Festival Boréal (NLFB) made its official lineup announcement. The result is an eclectic blend of emerging and established artists in the folk, indie, world, rock genres and beyond. The festival is scheduled for July 5-8 in Sudbury's beautiful Bell Park. Iconic Canadian roots and rock names fill the headline slots: Canadian rock sensation Arkells; international indie stars Alvvays; father-son duo Bill & Joel Plaskett; and Acadian folk-rocker Lisa LeBlanc. The lineup also includes 45+ other musical gems, including: Afro-beat pioneer Orlando Julius, instrumental guitar-rock veterans Shadowy Men on a Shadowy Planet, Prairie Oyster frontman Russell deCarle, and locals like Sudbury roots-rock outfit JoPo & The Rize. The full lineup and schedule are online at nlfb.ca. But wait, there's more! NLFB has a few more lineup surprises to announce, as well as details on accommodations packages.
Suprise! More Lineup!
Lee Harvey Osmond is the brainchild of Canadian music veteran Tom Wilson (Blackie & The Rodeo Kings, Junkhouse etc.), in collaboration with members of  Cowboy Junkies and Skydiggers. Beautiful Scars is the Juno nominated third album, and follows two albums, A Quiet Evil and The Folk Sinner which were previously longlisted for the Polaris Prize and nominated for a Juno. At 53, Wilson discovered he was adopted and had Mohawk ancestry – a story (among others) he told in his 2017 memoir, Beautiful Scars, recently released to much acclaim. The festival weekend will include a special, exclusive literary/music performance based on the book, aboard the William Ramsey Cruise boat. Lee Harvey Osmond will also perform on the festival's Main Stage.
Festival-goers are going to be blown away by the Tunisian infused dancehall reggae of Montréal's King Abid. King Abid will play an exclusive club show, at Sudbury's Townehouse Tavern, the Thursday night of the fest.
Accomplished Québec singer-songwriter Mara Tremblay will also join the festival lineup. With an impressive career spanning over 30 years, and numerous award wins and nominations (Félix, Socan etc.), she has become one of Québec's most loved folk-pop-rock voices.
Audiences will also be hypnotized by the jazzy-alterna-folk of Binaeshee-Quae, a singer-songwriter, actor & community arts enthusiast from Biigtigong First Nation.
Donné Roberts is a guitarist, singer and songwriter from Madagascar, who will join the 2018 festival lineup. He has released two vibrant solo albums and was one of the members of the African Guitar Summit project, which won a JUNO in 2005 and was nominated for another one in 2007.
Casper Skulls is a Toronto based art-rock band with ties to Sudbury, creating alot of buzz in the indie world. They will headline the after-hours show, Saturday night of the festival at The Townehouse Tavern.
The festival will also include a workshop and after-hours performance paying homage to the hip-hop arts: rapping, DJing, and beat making. These elements will include such artists as: Winnipeg's Indigenous hip-hop veteran HellnBack; 5-time World Champion DJ and producer Vekked; live sampler master and producer Fresh Kils; and Toronto-based rapper NiLLa. "Hip-hop music is folk music, as far as I'm concerned," says Executive/Artistic Director Max Merrifield, "People finding a voice with whatever they've got – that's what we're trying to show here."
Musical Cruises
Cruises aboard the William Ramsey will also be offered, with differing themes and atmospheres. Saturday afternoon will include a raucous bluegrass/outlaw-country party with Sudbury's Murder Murder, as well as a literary/musical cruise with Tom Wilson (Lee Harvey Osmond). Sunday afternoon will include a rock n' roll cruise, in collaboration with local concert presenter Party Cannon, performers TBD.
Accommodation Packages
For those travelling to the festival from out-of-town, NLFB is pleased to announce accommodation packages for 2018. Packages include Festival Passes and accommodations for 3 or 4 nights. Camping packages (with daily shuttle service) are available in partnership with Mine Mill Campground, and hotel packages are available in partnership with Clarion Hotel Sudbury. Accommodation packages are currently available here.
Information on accommodations packages, musical cruises, and more can be found online at nlfb.ca. The (almost) full festival schedule is now posted, with a few final details TBA. Advance pricing for festival passes is currently in effect.
Northern Lights Festival Boréal: July 5-8, Sudbury, Ontario