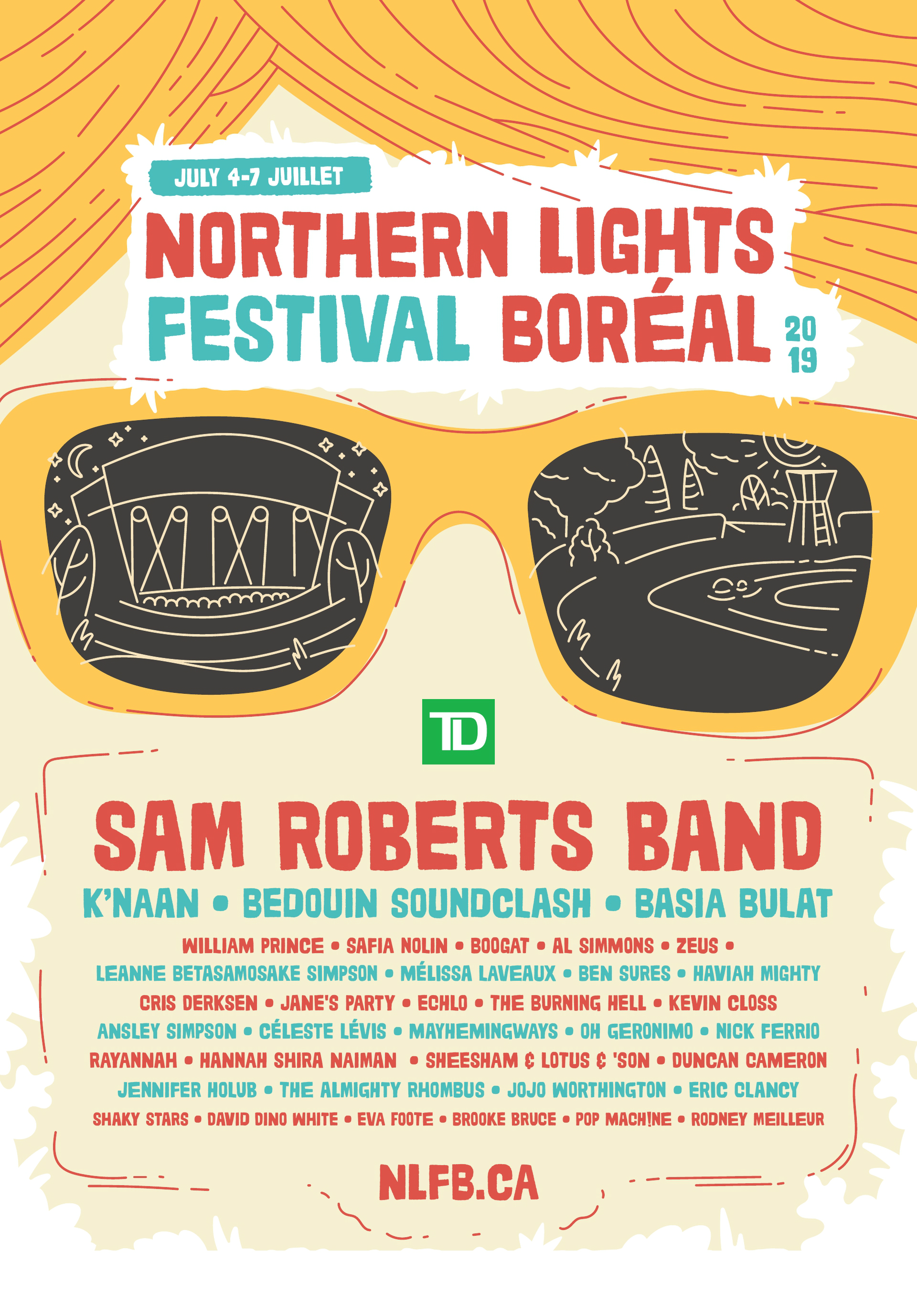 Apr 24/19
Northern Lights lineup to feature Sam Roberts Band, K'NAAN, Bedouin Soundclash, Basia Bulat + more
JULY 4-7 FESTIVAL A CELEBRATION OF LYRICS & SONGWRITING
Sudbury, Ontario's Northern Lights Festival Boréal (NLFB) began in 1972 as a one day event called the 'Northern Lights Folk Festival'. It has grown and evolved over the years to be the signature music & arts festival of Northern Ontario. NLFB remains Canada's longest consecutively running, outdoor music festival. Over the years, NLFB has been the setting for numerous scenes in Canadian music history. It's where Canadian folk icon Stan Rogers first wrote and performed his iconic song Barrett's Privateers. It's where a very young Eileen 'Shania' Twain took the stage for one of her first festival gigs. It is where many people first witnessed diversity of musical styles from various regions of the world, including a strong component of exciting Indigenous and francophone content. The 2018 festival featured sold out shows and attracted a record attendance of over 13,000 total. The NLFB team is eagerly building on this massive energy for the 2019 edition.

The theme for the year's festival lineup is songcraft – the art & science of penning a great song. This is something that NLFB has celebrated for decades, but 2019 includes a special emphasis on lyrics. "I wanted to put together a lineup that highlighted the power of lyrics in a number of different styles and contexts." says NLFB Executive Artistic Director Max Merrifield, "Whether they are folk singers, pop singers, indie rockers, or rappers, you'll find that most of this year's artists take command of language and lyrics in intriguing & exciting ways. In an era where image, sonics and aesthetic have become paramount, I thought it would be interesting to try and elevate the importance of lyrics through the programming."
The festival has already announced a number of exciting artists, including Canadian rock icons Sam Roberts Band. These 6x Juno winners will make a long overdue return to Sudbury, headlining Thursday, July 4th of the festival.
Headlining Friday, July 5th of the festival will be Somali-Canadian singer and MC, K'NAAN. The product of a creative family, K'NAAN fled Mogadishu, Somalia with his family at age 13. After learning English, partly by immersing himself in the classic hip-hop albums of the '90s, he came to prominence in 1999 with a spoken word performance at the United Nations that caught the attention of Senegalese superstar Youssou N'Dour.

K'NAAN's debut album, 2005's The Dusty Foot Philosopher, won the Juno for Rap Recording of the Year, and was nominated for the Polaris Music Prize. The follow up was 2010's Troubadour which contained the smash single 'Wavin' Flag'. The song was first used as the soundtrack for the Haiti earthquake relief campaign, and then Coca-Cola's theme song for the 2010 FIFA World Cup. The song quickly reached #1 on iTunes in 18 countries around the world, and launched K'NAAN into superstardom. A third album, God Country or the Girl, included features from household names like Nas and Bono, and produced several hits of its own, marking a new trajectory for this eclectic artist. This will be K'NAAN's first appearance in Sudbury, guaranteed to be a powerful, joyous experience.
Headlining Saturday, July 6th of the festival will be reggae/soul/alternative outfit Bedouin Soundclash. This Canadian treasure originally met while attending Queen's University, releasing their debut album Root Fire in 2001. Their 2004 album, Sounding a Mosaic included 'When the Night Feels My Song', the band's breakthrough single on Canadian radio, charting at #1 on several stations. That summer, the super-catchy tune could be heard everywhere. The album featured production from Darryl Jenifer of legendary punk/reggae group Bad Brains, whom the band formed a closed bond with. In the summer of 2005, Bedouin Soundclash appeared on the Vans Warped Tour bill, and had significant chart success in the U.K., where Sounding a Mosaic reached #1 on the BBC 6 Music charts. The band released their follow-up record Street Gospels in 2007, and then Light the Horizon in 2010. This year, the band is making their much-anticipated comeback, playing festivals and releasing a fresh batch of new singles. A brand new record entitled Mass, is set for release in October of 2019.
With an electrifying voice and stunning lyricism, Sunday July 7th headliner Basia Bulat has become one of Canada's most conspicuous talents. Juno and Polaris prize nominated, she often appears solo in gigantic halls, winning over crowds with an autoharp or charango, stomping feet and two mighty lungs. Her massive talent has also been recognized at scale: her songs have been adapted for major performances with symphony orchestras, and she's been tapped for prestigious tributes to Leonard Cohen and The Band. Since releasing her debut in 2007, she has shared a stage with iconic artists including Arcade Fire, The National, Nick Cave and Daniel Lanois, to name a few.
Juno winning singer-songwriter William Prince will appear in concert and on the festival's workshop stages throughout the festival. Prince's masterfully written folk tunes are a shining example of the festival's lyrical theme for 2019. Quebec singer-songwriter Safia Nolin will also appear, exemplifying this with her distinct folk-noir approach.
Juno winning, Mexican-Canadian rapper, singer, and musician Boogat will also perform, guaranteed to light up the dancefloor with his signature sound. The Montreal-based party starter has become renowned worldwide for his blend of hip-hop, cumbia, salsa, reggaeton, and beyond. Also hailing from Montréal is singer-songwriter and guitarist Mélissa Laveaux. who incorporates folk, blues, indie-pop and Creole influences into her music. Her soulful, vibrant vocals are the central thread of her art whose very essence is marked by her Haitian cultural heritage.
Polaris nominated, vintage-infused rock band Zeus will make their first Northern Lights appearance in 2019. Few bands can be simultaneously timeless and relevant, but that's exactly what this band has become. "Zeus is one of the country's finest rock n' roll bands, producing perfect little nuggets of musical goodness," says Executive/Artistic Director Max Merrifield, "we are very lucky to have these guys playing in some super cool, intimate shows."
Audiences will also be thrilled by ECHLO: the alias side project of Chloe Charles. Charles is an award-winning orchestral electro soul singer who has been lauded by the widest possible range of media including Noisey, Billboard, CBC's q, and Rolling Stone. "I've been following Chloe's music for awhile now, and I just love this artistic rebirth," says Executive/Artistic Director Merrifield.
Rising Toronto rapper Haviah Mighty will provide an energetic, late-night hip-hop performance like no other. Her sound is a mesh between new school production and aggressive cypher-like delivery. Her group, The Sorority, delivered an explosive performance in Sudbury in 2018, inspiring NLFB to bring the rapper/singer/producer back for the 2019 edition of NLFB.
Another defining feature of NLFB is a mix of established, acclaimed acts with the hottest emerging talent of all kinds. The 2019 festival will feature a colourful blend of emerging artists who are making major waves. Since her impressive journey on the popular Quebec TV version of The Voice, Céleste Lévis has taken the stage across Canada, conveying a unique depth and style within her sophisticated pop ballads. In September 2018, she released her self-produced album Donne-moi le temps that has since received 4 nominations at the Gala des Prix Trille Or, including album of the year. The festival lineup also boasts some of the most impressive up-and-coming indie rock bands, including Toronto's Jane's Party and Oh Geronimo, as well as Sudbury's The Almighty Rhombus and Shaky Stars.
Fans of good old roots music will always find what they're looking for at NLFB, and this year is no exception. Award-winning, Edmonton singer-songwriter Ben Sures will bring his witty songwriting style back to the festival. Acclaimed artists such as Hannah Shira Naiman, Sheesham & Lotus & 'Son, and Sudbury's own Duncan Cameron will showcase traditional music styles and instruments. On the other hand, artists like Peterborough folk-noir duo Mayhemingways, or Sudbury's Jennifer Holub and Kevin Closs will showcase a more contemporary folk sound.
Make sure to purchase tickets early to get the best deal. Camping & travel packages are coming soon. Also new for 2019 are 'Flex Passes', which grant access to all on-site Saturday or Sunday programming. These are perfect for those who might not be able to decide until the last minute. Of course, the full festival passes are the best deal by far, and are currently available for only $90 incl HST. For 4 days, and over 100 performances, it really is a super deal.
Tickets can be found at nlfb.ca/tickets or at one of our following outlets (by May 1): Old Rock Coffee (212 Minto St.); A & J Home Hardware (469 Bouchard St.); Jett Landry Music (1119 Lasalle Blvd.); Walden Home Hardware (130 Reg. Rd. 24); and Hanmer Home Hardware (Hanmer Valley Shopping Ctr.).

NLFB would like to gratefully acknowledge the support of: TD Bank, the Dept. of Canadian Heritage, the Ontario Arts Council, the City of Greater Sudbury, Ontario Creates, and the Northern Ontario Heritage Fund Corporation.