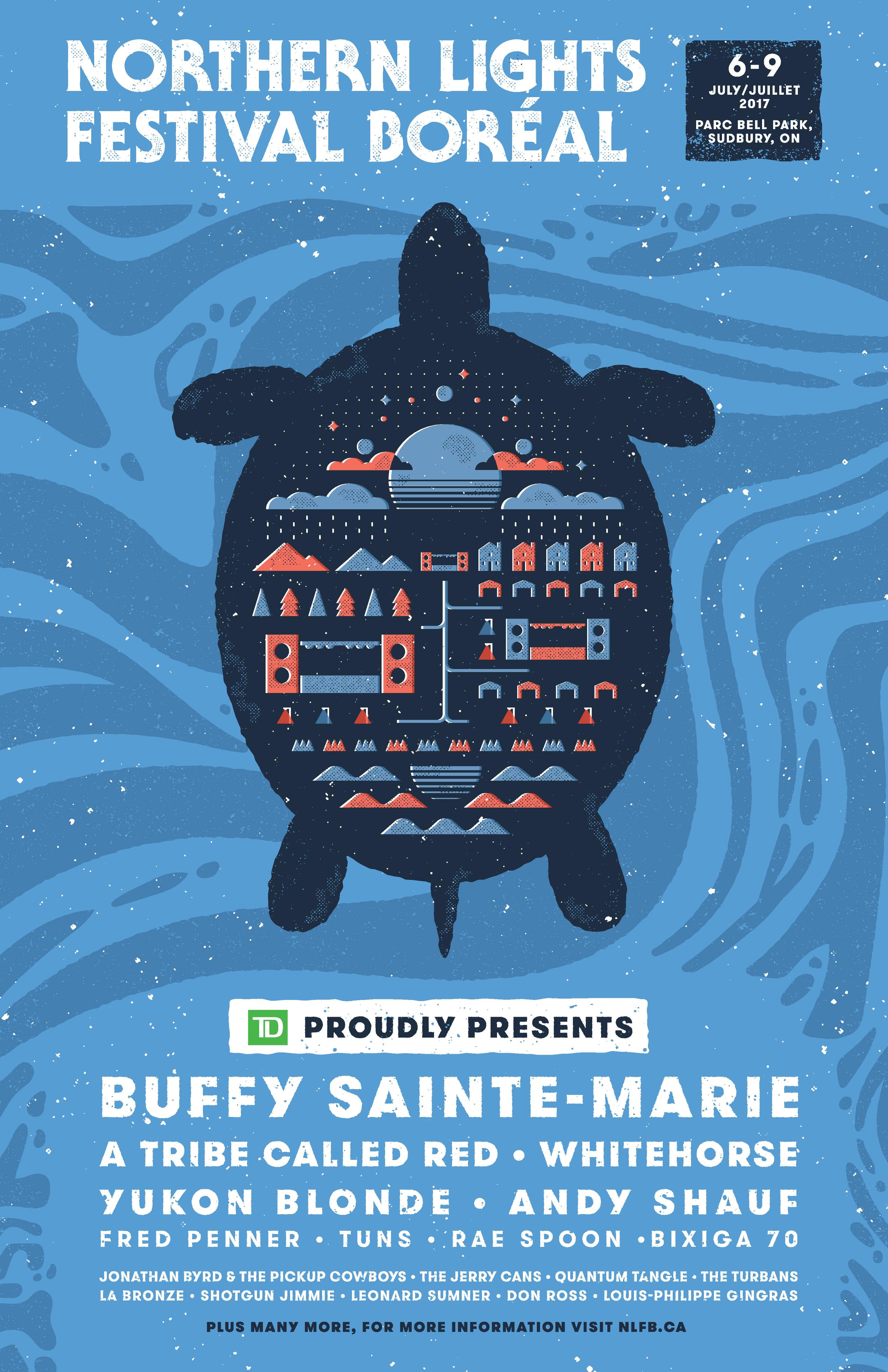 Apr 25/17
2017 lineup to include: Buffy Sainte-Marie, A Tribe Called Red, Whitehorse, Yukon Blonde, Andy Shauf, Fred Penner, and more
April 25, 2017: The time has come: Sudbury's Northern Lights Festival is releasing its full lineup. Ever since the outdoor music festival formed in 1972, it has been a staple of Northern Ontario's music & arts scene. The festival has become internationally known for its diverse programming and unique atmosphere, having presented such acts as: Broken Social Scene, Jeff Healey, Gord Downie, Serena Ryder and Rita Macneil, among countless others. This year the festival takes place July 6-9 at Sudbury's Bell Park. In it's 46th year, under new Artistic Director Max Merrifield, the festival is pursuing a bold and creative artistic direction.
For the first time in over a decade, NLFB is expanding the festival by adding a Thursday night concert. Yes, that means 4 days of non-stop music, art, activities and fun! But the Thursday night show is no ordinary festival concert. As plans were announced to celebrate Canada's 150th, NLFB wanted to celebrate the original founding nations: First Nations, Inuit, and Métis. NLFB has a strong mandate to consistently present Indigenous artists, however wanted to place an increased emphasis for the 2017 festival. In classic NLFB style, this will be done through music/arts as NLFB presents a special multi-disciplinary concert to kick off the festival. Thursday performances will include: the reunion of Northern Ontario rockers No Reservations, the Sudbury debut of Nunavut alt-folk stars The Jerry Cans, and the return of folk icon Buffy Sainte-Marie.
What better feature artist for this celebration than one the most influential Indigenous musicians of our time, Buffy Sainte-Marie. Perhaps you know Sainte-Marie from her 1960s protest anthems ("Universal Soldier"), open-hearted love songs ("Until It's Time for You to Go"), incendiary powwow rock ("Starwalker"), or the juggernaut pop hit "Up Where We Belong". You might know her from 2015 Juno and Polaris Prize winning album Power in the Blood. If you don't know, trust us. Her live performance is a powerful and energetic experience you don't want to miss. The Cree singer-songwriter, activist, educator, visual artist, and winner of countless awards (Oscar, Juno, and Golden Globe, among them) will be gracing the NLFB stage for the first time in over 30 years. 
There's nothing better than a Friday night in the summer. Cold drinks, blasting tunes and endless dancing. There couldn't be a better soundtrack to your non-stop Friday night than Yukon Blonde. Having thrown the audiences of NLFB into a rock n' roll frenzy in 2012, the Juno-nominated BC indie-rockers have gone nowhere but up. Their sound is a blend of west coast rock n' roll, mixed with driving indie-rock, and a dash of catchy synth-pop. 
Northern Lights has had over 4 decades of fantastic live music, and throughout this evolution one thing has remained clear: 'tradition' in music is not static. Traditions lives, it breathes and evolves. It is interpreted and reinterpreted to move minds, hearts and bodies. A Tribe Called Red embody this ethos, straddling a broad range of musical influences based in modern hip-hop, traditional pow wow drums and vocals, blended with edgy electronic music production styles. Currently made up of DJ NDN, Bear Witness and 2oolman, ATCR first got together in 2008, and have become one of the most influential forces in Indigenous music today, essentially pioneering an entirely new genre with this powerful fusion. They pack the dance floor as Bear Witness weaves indigenous stereotyping from movies, cartoons and media into a new political context and a dancer mixes b-boy and traditional moves.
The Sunday evening shows are one of the staples of the Northern Lights Festival; curling up with a blanket on the grass of the Grace Hartman Amphitheatre and watching the sun set as some of Canada's best serenade you. This year, the Juno winning duo known as Whitehorse will headline the Sunday main stage, bringing cinematic songwriting, blazing vocals, and impeccable guitar work. Whitehorse's brazen sonic breadth encompasses psychedelic surf, arid border rock, lo-fi ingenuity, and icy 80's sparseness. Last time Whitehorse was in Sudbury, they performed at the sold-out Stuart Mclean Vinyl Cafe tour. Their bluesy project The Northern South Vol. 1 was just nominated for 2017 Juno. Come watch them bring the fire, the fury and the fun.
NLFB has already announced so many great acts, including Bixiga 70, TUNS, Rae Spoon, Louis-Philippe Gingras, Jenny Ritter, Shotgun Jimmie and Annie Sumi, but there's SO much more.
NLFB is also ecstatic to present one of the hottest up-and-coming Canadian musicians, Andy Shauf. In the songwriting tradition of artists like Randy Newman, Paul Simon, and Elliott Smith, Shauf delivers nuanced compositions with honest, self-reflective storytelling. The Juno-nominated indie-folk-pop singer-songwriter has been on the tip of every music-aficionados tongue for the last year, and he will be bringing his masterful arrangements to the festival. Speaking of the Junos, NLFB is very privileged to welcome the 2017 Juno-winning group Quantum Tangle to the festival. Former-Sudburian and NLFB alumni, Greyson Gritt, teams up with Tiffany Ayalik to combine traditional storytelling with Inuit throat singing, and haunting bluesy melodies. 
Engaging entertainment for kids of all ages has always been a mainstay at NLFB. This year, you can find some of the country's most recognized family performers at the festival. Fred Penner is a Canadian icon, with two Junos and eight nominations, as well as 12 seasons and more than 900 episodes of the hit CBC TV show Fred Penner's Place. Fred will bring his time-tested, uplifting brand of entertainment to the festival on Sunday July 9th. NLFB's family area will also include: storytelling, puppetry, face painting, crafts, inflatable amusements, and more great music. 
Northern Lights is a place where sounds, styles, and cultures mix to make a delicious brew. In order to craft something truly special, a few flavours from around the world are absolutely necessary. NLFB has already announced Brazilian afro-beat innovators, Bixiga 70, however The Turbans (London, UK) are also guaranteed to blow minds and move crowds. The Turbans are an international musical collective bringing together exciting traditional near-eastern and eastern-European styles and original compositions. Masterful playing mixes with an encyclopedic repertoire and a wild energy. On the opposite side of things, NLFB also makes it their mandate  to feature some of Northern Ontario's best and upcoming talent, such as Barry Miles & the Congregation, Nick Sherman, Hidden Roots Collective, Bryden Gwiss Kiwenzie, The Ape-ettes, Mclean, Dr. Tom's Traveling Medicine Show and the Meltdown winners, Emmanuel Gasser (solo), Les Frérots Rochers (group) and M.D. Dunn (Sault). 
NLFB sets itself apart by truly celebrating the craft of writing a great song. Chapel Hill, North Carolina's own Jonathan Byrd & the Pickup Cowboys are a big part of this. Byrd's highly-praised songwriting jumps between gutbucket blues and tender ballads, empathetic work laments and sympathetic character studies. Of course great songwriting doesn't confine itself to roots music. You won't want to miss the sophisticated electro-pop songs of Moroccan-Canadian artist, La Bronze. Other acts you won't want to miss out on include: guitar genius Don Ross; prog-trad instrumentalists Aerialists; ragtime revivalists the Ever Lovin' Jug Band; 'post-motown' francophone group Miss Sassoeur & Les Sassys. Part of what makes the festival so great is how you can listen to an upcoming indie rock band, take a 5 minute stroll across the vendors and crafters and the next thing you know, you're watching a 10-piece dance band. If variety is the spice of life, then consider NLFB a mouthful of hot sauce!
Make sure to order to tickets now! Prices are going up to $90 on May 1st ($15 difference) so there's only one week left to get 'em cheap. Camping & accommodations packages coming soon. Tickets can be found at Brownpaper Tickets or at one of our following vendors (by May 1):
– NLFB Office (19 Grey)
– Gloria's Convenience (469 Bouchard)
– Jett Landry Music (1119 Lasalle)
– Old Rock Roastery (212 Minto)
– Fromagerie Elgin (5 Cedar)
– Home Hardware (any Sudbury location) 
NLFB would like to gratefully acknowledge the support of: TD, the Ontario Lottery & Gaming Corporation, the Dept. of Canadian Heritage, the Ontario Arts Council, the Ontario Arts Foundation, the City of Greater Sudbury, the Ontario Ministry of Tourism, Culture and Sport, Ontario 150, and the Northern Ontario Heritage Fund Corporation. 
Northern Lights Festival Boréal: Inventing tradition, fostering innovation, celebrating community, since 1972.
###
Presented by TD.