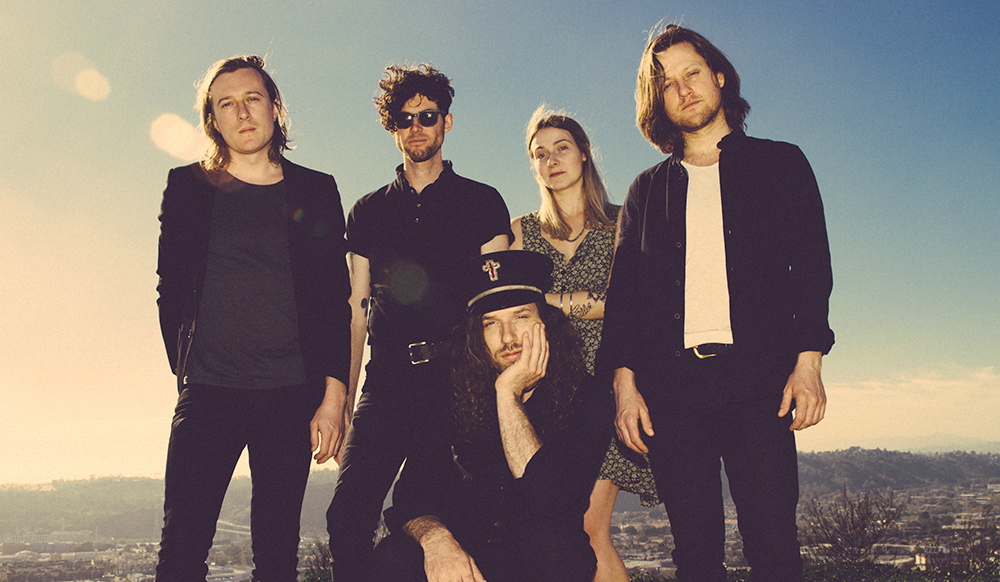 Jan 25/17
Northern Lights Festival Boréal announces lineup 'teaser' including Yukon Blonde, Rae Spoon
Organizers in Sudbury, ON are beyond excited to reveal the first glimpse of Northern Lights Festival Boréal's 46th edition. With a brand new Artistic Director and a ton of BIG plans, the 2017 edition promises to exceed all expectations. The celebration will be held at Bell Park July 7th, 8th, and 9th. Preparations are already well underway, and while many more acts are to be announced in the months leading up the festival, NLFB is announcing a tiny taste of the lineup for this year's festival.
NLFB is keeping up the tradition of featuring a roster of diverse talent, ranging from Canadian heroes to the 'next big thing', from international world music to local singer-songwriters, from tradition to innovation. With this in mind, NLFB is thrilled to include Yukon Blonde, Rae Spoon, and Annie Sumi in the NLFB 46 artistic roster.
Having been a festival highlight in 2012, BC rock heroes Yukon Blonde have gone nowhere but up, and will be featured as the festival's Friday night headliner. Still riding the wave of success from their 3rd album, On Blonde, Yukon Blonde have become one of the country's foremost indie rock institutions. Their sound is a blend of good old rock and roll, mixed with upbeat, driving, indie rock, and catchy, booty-shaking pop. They are Juno nominated, critically acclaimed, and they continue to serve up one of the finest rock shows the country has to offer. Their west-coast rock sound couldn't be more perfect to set the tone of fun, for the first night of the festival.
Rae Spoon is a Canadian, award-winning musician, songwriter, producer, multi-instrumentalist and author. With over 8 albums released, all ranging across the board, from indie folk to electronic pop, Rae is a force to be recognized. Rae's live shows have been known to feature audience sing-a-longs, songwriting fuelled dance parties and beyond. Rae's off-kilter, yet familiar style is a symbol of the festival's mandate to push artistic boundaries, while maintaining a respect to tradition. Rae was the subject and composer of the score for the National Film Board–produced musical-documentary My Prairie Home, which premiered at Sundance Film Festival in 2014 and is available on Netflix. They have been nominated for two Polaris Prizes, a Lambda Literary Award, a Western Canadian Music Award, a CBC Radio 3 Bucky Award and a MOTHA Transgender Musician of the Year Award.
NLFB has always been an important venue for regional artists, which is why the organization is excited to announce its first official Northern Ontario act. Based in North Bay, ON, Annie Sumi is one of the region's songwriting gems. Her music is lush, quirky and loveable. Her talent for performing and songwriting has earned her nominations from the Toronto Independent Music Awards, the Hamilton Music Awards, and has won her praises from such personalities as George Stroumboulopoulos, and others.
Discounted earlybird tickets to the festival will be available at:
Gloria's Convenience (469 Bouchard)

Jett Landry Music (1119 Lasalle)

Old Rock Roastery (212 Minto)

Fromagerie Elgin (5 Cedar Street)

all Home Hardware locations in Greater Sudbury (beginning Feb 1)
NLFB is giving music lovers a chance to take advantage of earlybird pricing on weekend passes, with a little knowledge of the lineup. Started in November, Earlybird prices will be available until February 1st. Day passes will also become available at this time.
Northern Lights Festival Boréal continues to innovate each year with an eclectic program of indie, roots, world music, as well as visual arts, workshops, family entertainment and more, making it a unique celebration of community and culture. Every year, the festival awards the Jackie Washington award, recognizing outstanding contributions to arts and culture in Northern Ontario, with past recipients including Willie P. Bennett and Charlie Angus. Over the years NLFB has grown into a seasoned presenter of Canadian roots and modern music, and a lightning rod for the energy of Northern Ontario's artistic community. Inventing tradition, fostering innovation, celebrating community, since 1972.
-###-
For more information contact: Shawn Kosmerly, Marketing & Communications Coordinator, Northern Lights Festival Boréal, (705) 674-5512, marketing@nlfb.ca