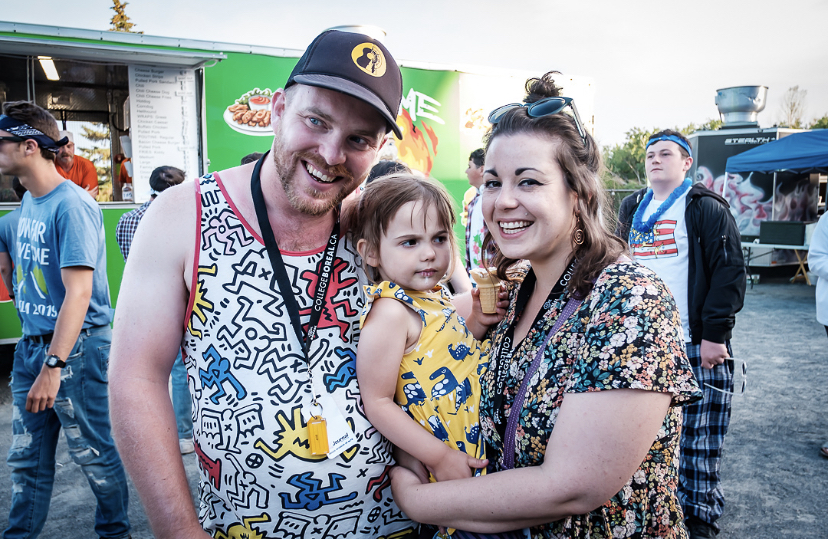 Feb 12/21
Finding Love at the Festival
Music to many, is used as a way to feel good. Music evokes contentment, happiness, and fulfillment. Even well-known theorist Charles Dawrin, who studied modern evolution defines music, a 'courtship' between two people.
Whether it have been locking eyes across the Grace Hartman Amphitheatre or bonding over your favourite artist playing or even at The Townehouse after party, that 'festival feeling' is unlike any other. There are so many things to celebrate this year, love being one of them. We are so grateful that these wonderful couples have chosen to share their stories of finding love at our festival! Did you and your loved one fall head over heels at our festival? Share your story and make sure to tag us!
Tracey Baker (artist) and Josh Turnbull (musician, NLFB performer)
We hung out for the first time after the Joel Plaskett show. I had seen him play earlier in the day and was like 😍😍😍. We met up at The Townehouse and walked to bell park with a crew of people to go swimming but wandered off and talked all night til morning when we got a cab home. It was just one of those perfect nights! Then it was Wolfe's first fest and Josh played that year too and it was so cool!
Scott and Vickie Merrifield
I first met the love of my life, Vickie McGauley, through her brother-in-law. who was the volunteer Technical Director of Northern Lights in one of the very early years of the festival. She became integrally involved as a key volunteer in various capacities for a number of years while I was also volunteering as Festival Coordinator, then Artistic Director. She served as Artistic Co-director with John Closs in 1981 and then with me in 1982.

It was during those long hours in a cabin in the bush on the beautiful Vermilion River, working together, booking performers and meticulously putting together the program of concerts and workshops, that we discovered a nice rhythm to the time we shared together.  As we listened to countless audition tapes, we discovered an ease to our creative collaboration, and a growing mutual trust, respect and attraction. That summer we curated a program that included Murray McLauchlan, Figgy Duff, Marie Claire Séguin, Tony Bird, Ian Tamblyn, Dario Domingues, Ken Whiteley, Robert Paquette, Paul Dunn, Rodney Brown and Jackie Washington, to name but a few that were near and dear to us old-timers … and still are! 
The following spring, Vickie and I travelled to Greece for a month and, there too, we sought out and discovered incredible music, both popular and traditional. When we returned we made our home together on the Vermillion, getting married 2 years later and beginning our family with the current Artistic Director, Max. Four years later we welcomed our second son, Sam, and music continues to be a huge part of all of our lives. We are delighted that, as infants, both our granddaughter, Layla, and now our grandson Milo, love to move to the beat of great music.
Celyne Marie and Adam
We met at NLFB 2019 at the Sunday night late show at The Townehouse. I was still working there at the time but had booked the day off so I could take in the festival. I guess Adam had noticed me before in passing but as I was always working he hadn't ever approached me. But with my server blinders off that night and in great spirits thanks to a full day of music down at Bell Park, he was the first person I spotted across the bar when I walked in. We locked eyes, I worked up the nerve to introduce myself between performers and then we talked and laughed on the steps of The Townehouse smoking cubby on Grey St until sunrise and we've been together ever since! I think my favourite part of our story is that he had just gotten into town that evening from a weekend in Ottawa and was never planning on going to the festival but he spontaneously decided to join some friends at the last minute and that's what brought him to The Townehouse that night. The whole night was perfect and still just feels serendipitous!
Max Merrifield and Ashlyne
We owe the existence of our beautiful family to Northern Lights Festival Boréal. I never planned it out this way, but just as my parents did, Ashlyne and I first connected while working together for the festival. I found myself in Sudbury, not long after graduating, working a job I hated and just really wanting to 'level up' in life. I was able to secure a job as Outreach & Logistics Coordinator with NLFB, where Ashlyne was working as Volunteer Coordinator. Eventually, I'd move on to be the Executive Director and Artistic Director (a role I proudly fill to this day). At this time though, having no Executive Director, we worked very hard on some amazing festivals and learned a huge amount in the process. After getting to know Ashlyne, and sharing in this passion for celebration, music, art and community, we eventually fell in love. It turns out we were a great team in life, as well as in festival panning. I was drawn in by her beauty, her contagious positive vibe, and her deep sense of kindness. We now have two amazing kids: Layla who is four, and Milo who is 10 months. Layla can't wait to get back to festivals, and we can't wait for Milo to discover them!