The Weber Brothers, Dinner & A Show
November 16, 2018 @ 6:30 pm

-

10:00 pm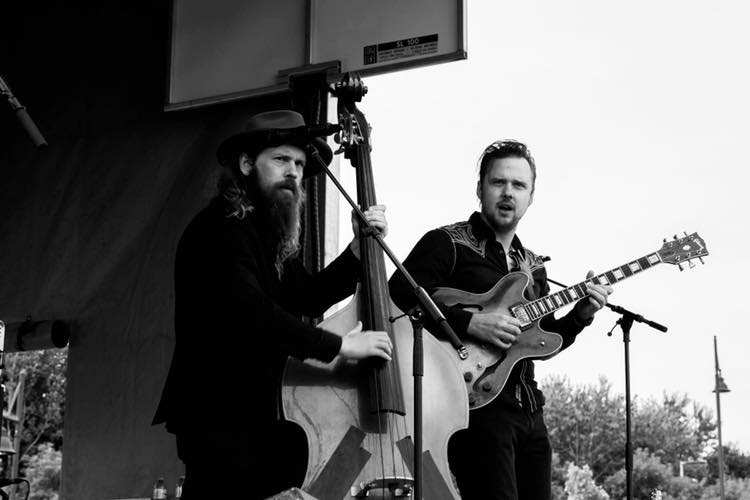 The Motley Kitchen is delighted to present ace rock and roll powerhouse duo, The Weber Brothers, as the next featured act in their Dinner & A Show Series on Friday, November 16.
Ryan and Sam Weber left their Baltimore home one night as teenagers with the aim of meeting their idol, rockabilly legend Ronnie Hawkins, and ten hours later showed up at his doorstep. Mere months later, after surviving the intense musical apprenticeship of Ronnie's fabled "Rock 'n' Roll Bootcamp," they were members of his backing band, The Hawks, (as had been former Hawkins protégés Robbie Robertson, Rick Danko, and  Levon Helm, who went on to reshape music history as "The Band"). By the ages of 18 and 21, the Webers had already performed alongside Kris Kristofferson, Levon Helm, Garth Hudson, Jeff Healey and the Tragically Hip, to name a few.
Over the past 16 years, they've recorded 12 independent albums, and toured extensively throughout the U.S., Canada and Europe.
In October 2012, the brothers were invited to the Rock and Roll Hall of Fame American Music Masters tribute to Chuck Berry in Cleveland, where they shared the stage with the likes of Merle Haggard, Rick Derringer, Joe Bonamassa, Duke Robillard, and the father of Rock and Roll himself, Chuck Berry.
Also known for their talent as studio musicians, the brothers have recorded on dozens of outside projects, including work with Gordon Lightfoot, Kris Kristofferson and Willie Nelson.
Dinner and entertainment combined is $60.00 including HST. Show-only seats are $25.00 each. Doors open at 6:00 p.m. with the buffet dinner served at 6:30 p.m. and the show approximately from 7:30 p.m. to 10:00 p.m. Reserve now to assure good seats and dinner by calling 705-222-6685.
The Motley Kitchen is proud to present this series in collaboration with the Northern Lights Festival Boréal.
For more info visit:
http://weberbrothers.com/
https://www.facebook.com/WeberBrothers/
https://www.youtube.com/watch?v=gozObN1gzCE