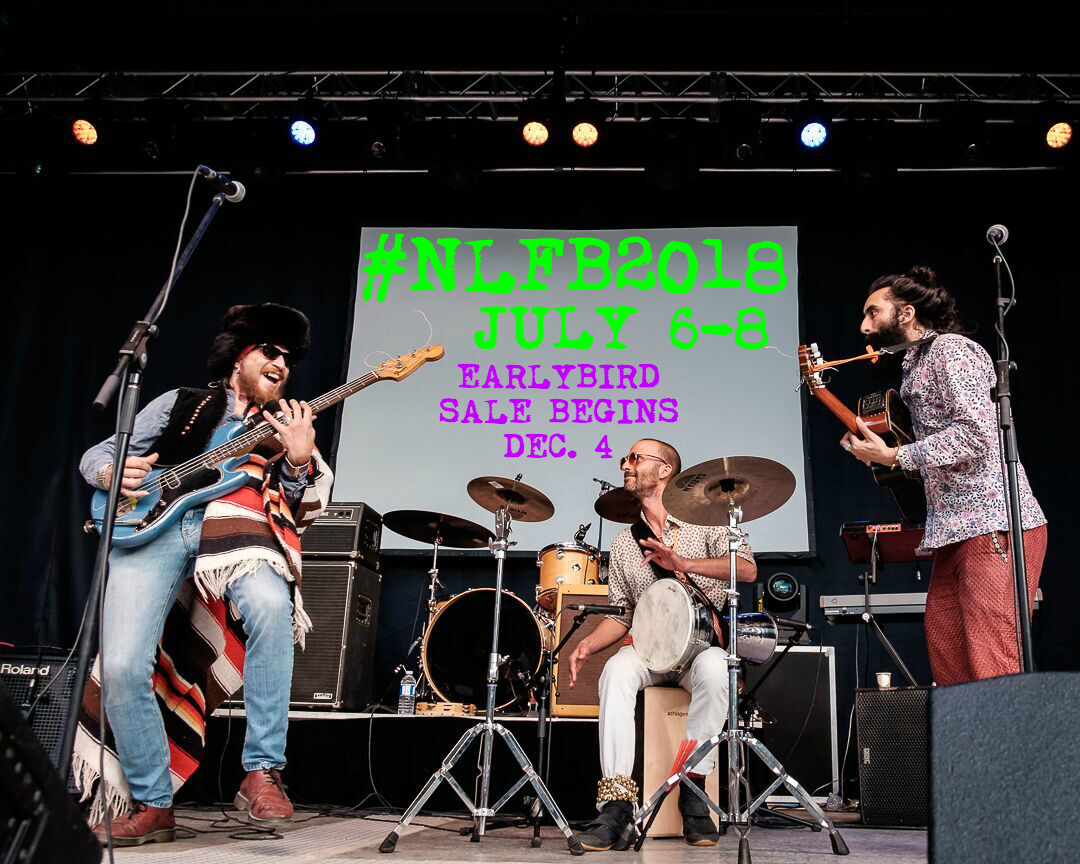 Dec 04/17
2018 Festival planning is underway and tickets are on sale!
The NLFB team plans to build on a record-breaking 2017 edition
After a record-breaking 2017 edition, Sudbury's Northern Lights Festival team is hard at work putting together another festival that aims to amaze, inspire and bring people together in a spirit of celebration. The July 2017 event featured a focus on Indigenous artists and featured acts such as Buffy Sainte-Marie, A Tribe Called Red, Whitehorse and Fred Penner. The event is calculated to have attracted over 11,200 attendees total. "Things couldn't have gone better," says Executive/Artistic Director Max Merrifield, "Not only did we present something that we felt was inspiring and meaningful, but also it was received with overwhelming positivity."
The 2018 festival is scheduled for July 6-8 at Sudbury's Bell Park, and the holiday sale for earlybird passes begins today. Organizers are anxious to make some exciting lineup announcements. "We're not quite ready to announce but we're working on some pretty amazing things," says Max Merrifield, "Trust us, you're going to be happy you took advantage of this holiday sale. Stay tuned!"
Passes are currently available for $65 including all taxes. For over 45 acts from around the world, and roughly 90-100 performances, over 3 days, the value is high. This is a 35% discount from the gate price. NLFB is encouraging businesses to treat their clients and staff. They're also suggested as gifts for music lovers, or friends who are always looking for a new adventure. Of course they can always be purchased for personal use as well! Passes are currently available online and at outlets throughout Sudbury: Old Rock Roastery (Minto), A & J Home Hardware (Bouchard), Jett Landry Music (Lasalle), and the festival office (19 Grey St.). A limited quantity has been made available, and prices are expected to increase in January.
Northern Lights Festival Boréal is a signature, community music & arts festival of Northern Ontario. It's a non-profit and a registered charity. It's a staple of the Canadian music scene. It's where Canadian folk music legend Stan Rogers wrote and first performed his anthem 'Barrett's Privateers'. But it's also where Canadian indie supergroup Broken Social Scene made their first Northern Ontario appearance. It's where countless people have first witnessed live music from Africa, Latin America, Eastern Europe, and beyond. It's the only place you can see a hip-hop artist jamming with a folksinger and a Brazilian afro-beat band; or listen to iconic artists share the stories behind their songs, alongside exciting emerging artists. If you haven't experienced the festival magic, come witness it for yourself this July.