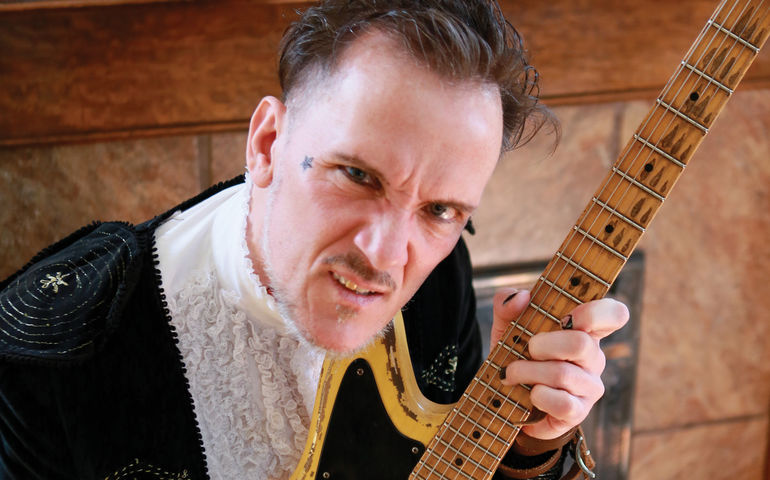 Kevin Breit
Kevin Breit is a master guitarist who has recorded with the likes of Norah Jones, Taj Mahal, Rosanne Cash, k.d. lang, Cassandra Wilson and Hugh Laurie. With unmatched artistic vision, Breit has created the joyful and whimsical Johnny Goldtooth and The Chevy Casanovas as a guitar-driven musical journey through genius. Joining Breit on this all instrumental album are Vincent Henry (Amy Winehouse, Tom Waits), Michael Ward Bergeman (Yo Yo Ma), Davide DiRenzo (Cassandra Wilson) and Gary Diggins (R Murray Schaffer). Known for his inimitable guitar playing, exquisite lyrics and eccentric performances, Breit is a humble Canadian musical treasure. With multiple awards, including a Maple Blues Award, National Jazz Award and two JUNO awards (Canada's Grammy) for his own recordings, as well as for his work on albums that have a collective 10 Grammy Awards, Breit's unparalleled creativity is infinite.
Breit's playing throughout the album is adventuresome, daring, highly creative, and brings to mind similar guitar innovators such as Mickey Baker.
Johnny Goldtooth and The Chevy Casanovas began with a photo on the wall in the basement studio (just a corner of the basement) in the house Kevin Breit shares with his wife, three kids, two dogs and a cat. In it, a matador decked out in the finery of his profession, all swagger and danger. Beside it another photo, this one from a Halloween in the '70s—Breit's father, a towering, complicated, larger than life, heart-breaking man, dressed up as a matador, cloudy looking and cradling a bass guitar. Superimpose these two pictures, and you might get an idea of who Johnny Goldtooth is.
In fact, that beginning is not the beginning. The real birth of Johnny Goldtooth was at a session Kevin Breit did for a recording artist of note. The gig was to replace the lush and silky guitar parts of a famous rock star with something at the other end of the spectrum. In the steps it took from the recording console to his guitar station, Breit had come up with the whole approach: a thinner sound, twangy, a little uncouth, a little boneheaded … riffs that anybody could play but would love because they were great. "Imagine it played by a guy with a gold tooth," he said to the producer and artist.
+ MORE T.B.A.
Northern Lights Festival Boréal: July 4-7, 2019