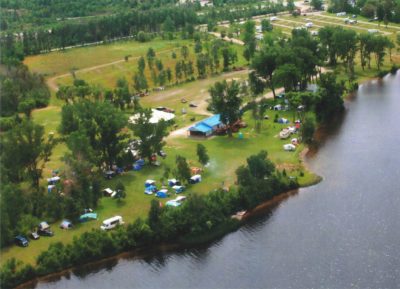 Jul 01/17
Camping, hotel and hostel packages available!
Sudbury, June 30th, 2017: Sudbury's Northern Lights Festival Boréal is in less than one week, and organizers are beyond excited to start the celebrations. The festival headliners include: legendary First Nations artist Buffy Sainte-Marie, Indigenous all-star DJ crew A Tribe Called Red, innovative rock/folk/psych duo Whitehorse, buzzed-about songwriter Andy Shauf, and iconic family performer Fred Penner. July 6-9, the event will include: 6+ stages, 50+ artists, and roughly 100 performances/exhibits, featuring music & arts for all tastes and ages. "We literally cannot be more excited about this year's lineup," says Executive/Artistic Director Max Merrifield, "We have a really, diverse, exciting roster of Indigenous artists as well, and people from all over the country are planning to travel to Sudbury for this special event."
For 2017, NLFB is offering accommodations packages for travellers of all types. There are hotel packages, combining weekend passes with rooms at Clarion Hotel Sudbury (Elm St.). There are also camping packages including off-site campsites at Mine Mill Campground (with shuttle service daily), and hostel-style packages including rooms at Cambrian College Residence. These packages include not only discounted accommodations, but discounted rates on the festival passes as well! When you factor in the comfort of the accommodations, and the monumental amount of music, entertainment, and festival magic, it is obvious that these packages provide great value!
For full pricing and details contact the NLFB office at 705-674-5512 or visit the website at nlfb.ca
Northern Lights Festival Boreal is Canada's longest continually running outdoor music festival. Over the years, NLFB has grown into a seasoned presenter of roots and modern music, and a lightning rod for the energy of Northern Ontario's artistic community. Inventing tradition, fostering innovation and celebrating community since 1972. From Gord Downie to Broken Social Scene to Rita MacNeil to even a young Shania Twain, NLFB has had many legends grace its stages.
 #NLFB2017 is July 6-9, 2017.
-###-
• For more info. visit nlfb.ca or contact Shawn Kosmerly at marketing@nlfb.ca, 705-674-5512