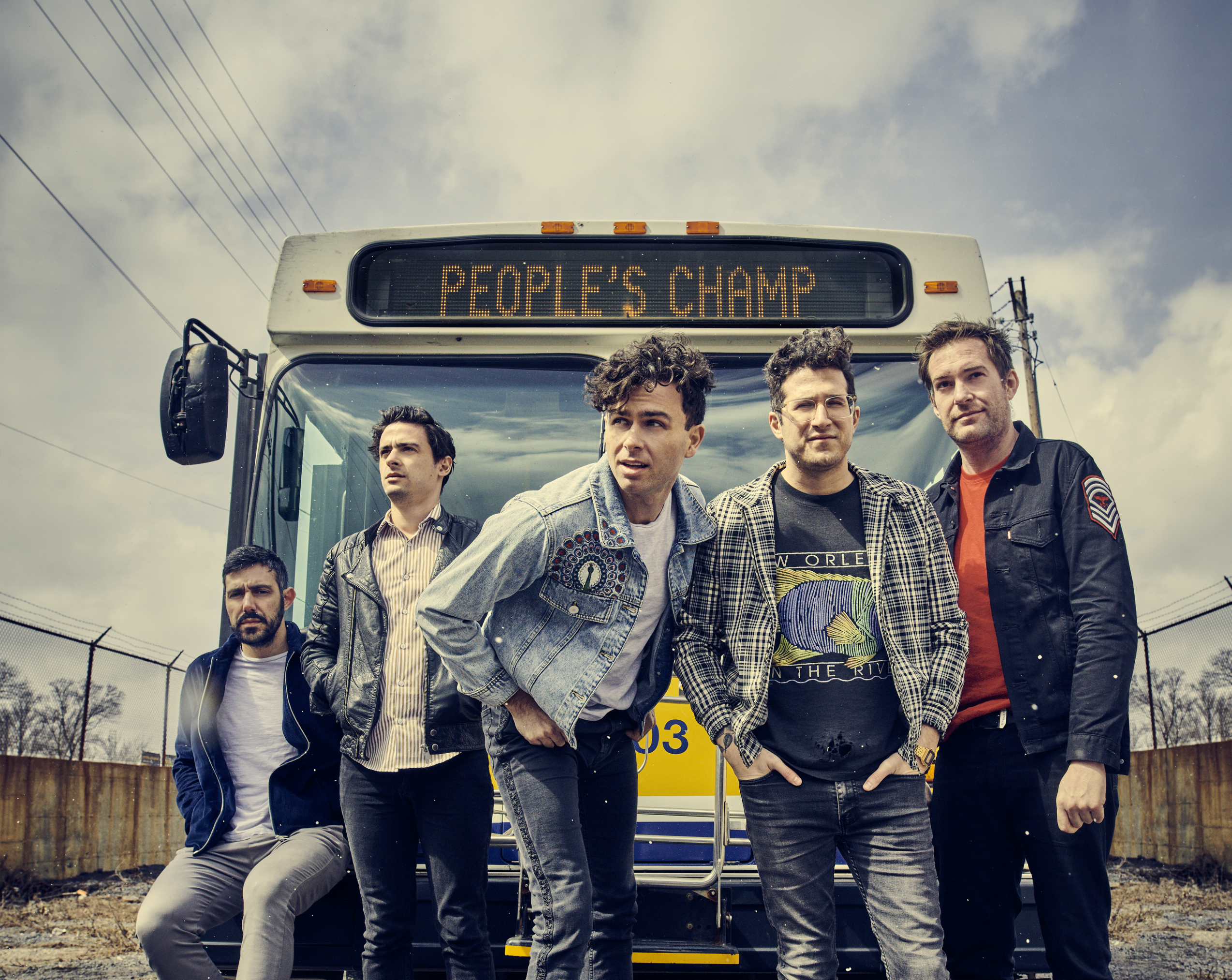 Apr 24/18
#NLFB2018 – THE BIG YEAR: ARKELLS, BILL & JOEL PLASKETT & MORE
The time has finally come. Northern Lights Festival Boréal is ready to reveal the full 2018 lineup. NLFB 2018, taking place July 5 – 8 in Bell Park, Sudbury, will feature a diverse lineup of performers ranging from Canadian legends to the undiscovered masters, from tradition to innovation. NLFB has already announced a stellar lineup preview including: Saturday indie headliner, Alvvays, Juno nominated Cree/Dene/Irish artist, Iskwé, folk veteran Connie Caldor, 'folk-trash' Friday headliner, Lisa LeBlanc and much more.
Arkells: The people's champ
NLFB 2018 is thrilled to announce that Arkells are set to kick off the weekend as the Thursday night headliner. Since the release of their latest album, Morning Report, the 4 time JUNO Award winners have made their debut at some of the biggest marquee festivals in the U.S., including Coachella, Lollapalooza and Bonnaroo. Their most recent hit single, "Knocking At The Door," spent an unprecedented 14 weeks at #1 on the Canadian Alt/Rock charts, making it the most played alt/rock song of 2017, and Arkells the most played band of the year. This spring Arkells released "People's Champ" – an upbeat, horn-infused, politically-charged anthem written to the current social climate. Arkells' are one of the most passionate, live-rock authorities touring today and this will be their first appearance at NLFB. Their show is expected to one of the most high-energy performances of the weekend.
A family affair: Bill & Joel Plaskett
Multiple JUNO Award winning songwriter and festival favourite, Joel Plaskett, is returning to the festival stage for the first time since 2012. Canada has produced some of the world's most enduring songwriters and Joel Plaskett is being hailed as one of the best. He's won a Juno, several East Coast Music Awards, and has been nominated for countless other awards, including being a Polaris Prize finalist multiple times. Although he has performed solo and as the Joel Plaskett Emergency, in 2018 Joel will be sharing the spotlight with his earliest musical influence- his father, Bill Plaskett. In 1975, Bill moved to Nova Scotia where Joel was born. Through much of the 1980s the family lived in historic Lunenburg, a town transitioning from a fishing village to a tourist economy, where Bill played in an old time band called Starb'ard Side and helped found the beloved Lunenburg Folk Festival. Together, the father-son duo released Solidarity (2017), a debut album expressing personal, yet expressive of interconnecting themes. Listeners can expect folk-based political songs following rockabilly, country-blues, and more fully arranged folk rock songs with contemporary social commentary. Bill & Joel will headline Sunday, July 8th.
Canada's best instrumental band ever
CBC's Grant Lawrence called them 'Canada's Best Instrumental Band of All Time', but you may know them as the creators of the song 'Having an Average Weekend', the theme to the Kids In The Hall series — often referred to as Canada's second national anthem. Shadowy Men On A Shadowy Planet originally existed between 1984 and 1995 but are now back sharing their vintage guitar rock to both old and new audiences. The reconstituted Shadowy Men on a Shadowy Planet's founding members Brian Connelly and Don Pyle are joined by extended family member Dallas Good of The Sadies playing bass guitar, and have geared up for an exhaustive reissue campaign of their music.
From sea to sea
Canada has long been a breeding ground for the some of the world's coolest music and Northern Lights is always excited to express and celebrate this diverse musical playground through the annual festival. Julie & The Wrong Guys are an exciting addition to the lineup, combining two household names in Canadian indie music. The band is an unlikely union of Juno award-winning songwriter Julie Doiron and members of Toronto's metal/hardcore heavyweights Cancer Bats. Julie & The Wrong Guys have found a distinctly harmonized voice and have come out of the woods with their self-titled album, considered one of the most exciting rock records of 2017. Vancouver's C.R. Avery is an award-winning poet, an inventive beatboxer, and a witty, infinitely unique songwriter, combining spoken word, blues, rock n' roll, folk, hip-hop, and beyond. Avery has toured ruthlessly throughout North America, Europe, and Australia with his rock & roll punk ensembles, hip-hop circuses with 12-bar blues high kicks, and his infamous string quartets and burlesque revues. Making waves worldwide, Montreal's Canailles have established themselves as wild weavers of North American roots, giving a gritty and joyous edge to gospel, blues, cajun and other old-time traditions. Their third opus, Backflips, was released in the spring of 2017, and is filled with hymns to sweet-talking troublemakers and upbeat numbers.
Guatemala to Nigeria to Sudbury, & beyond
Northern Lights is renowned for bringing the world to the Grace Hartman Amphitheatre stage. Every year, festival audiences are captivated by new music from emerging and legendary international artists. "What makes Northern Lights unique is the combination of respected, household names, with exciting new discoveries from all over the world," says Max Merrifield, Executive/Artistic Director, "We are SO excited to present pioneers like Orlando Julius, and innovators who re-invent tradition like Bonsa and Doctor Nativo. We still have a few of these acts to announce in the coming months too, so stay tuned!" Considered one of Central America's most exciting new talents, Doctor Nativo, explores themes of Mayan spirituality, social justice and folk wisdom, punctuated by an explosive sound combining reggae, cumbia, hip hop, and Mayan traditional music. His first solo album, Guatemaya, is out in June of 2018.
Also joining the roster of international talent, Bonsa is bringing his undeniable energy and koanni (a traditional two-string bass guitar) to the festival stage. Hailing from Burkina Faso, Bonsa's music explores Bissa tradition and numerous contemporary influences. He moved to Montréal in 2016 and, without losing any time, surrounded himself with musicians including Sébastien Pilon and Pavel Maximytchev. In 2017, the Bonsa group won the Syli d'Or for World Music.
Nigerian music veteran and pioneer Orlando Julius will grace the festival stage with his band The Afrosoundz. Over the years, Julius has been praised for his innovative blending of Afrobeat and highlife music with traditional African rhythms and American pop, soul, and R&B. Julius' 1966 effort, Super Afro Soul, made him a national celebrity in Nigeria and even went so far as to influence the funk movement that swept over the United States in subsequent years. Orlando Julius & The Afrosoundz continue to move festival audiences worldwide, proving that true musicians just keep getting better and better with time.
Keeping it local
Northern Lights is excited to present a roster of established local Sudbury artists including surf rock and experimental performer, Matt Foy, Anishnawbek drumming/singing group Black Bull Moose Singers, and for the first time on the Northern Lights bill, electro-punk renegade BBBRTHR.
Every year, Northern Lights hosts the Meltdown Competition: an open audition where emerging Northern Ontario artists compete for a paid spot in the festival lineup. The winners really blew the judges away, and were announced in March. Born in Mexico and recent Sudbury resident, David Cordero's music incorporates styles of Latin rock, reggae, soul and Latin jazz. Festival audiences can expect a lively and dance-filled set. Alternative rock band, The Keyframes, is already becoming well-known in the Sudbury music scene and they're ready to take it to the next level at NLFB.
Get in on the 'festival magic'
Stay tuned to find out about NLFB's musical cruises, accommodations packages, musical workshops, special off-site shows, and visual/installation arts.
Tickets can be purchased at advance prices online and at: all Home Hardware locations within Greater Sudbury; La Fromagerie; Old Rock Coffee; Laurentian's SGA Office; Jett Landry Music; The Townehouse Tavern; and The Farm in North Bay. Weekend passes are currently available for just $90, tax in. Kids under 14 can enter for free and weekend passes for students/youth are only $60, tax in.