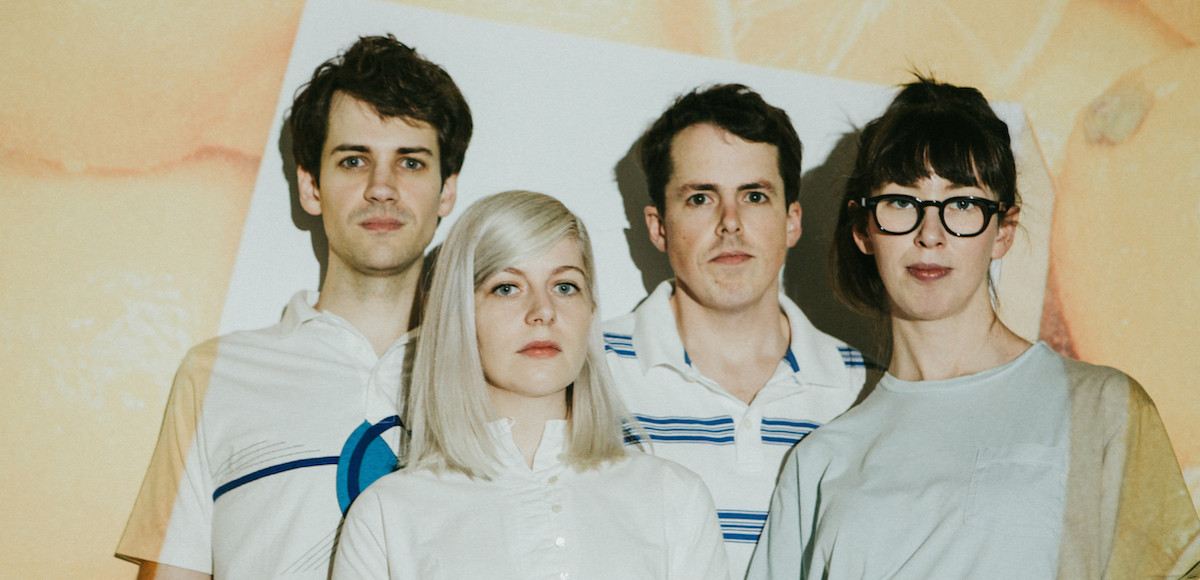 Mar 22/18
4 day festival to include: Alvvays, Iskwé, Connie Kaldor + many more
Ever since the outdoor music festival formed in 1972, Northern Lights Festival Boréal (NLFB) has been a staple of Northern Ontario's music & arts scene. The festival has become internationally known for its diverse programming and unique atmosphere, having presented such acts as: Broken Social Scene, Buffy Sainte-Marie, Gord Downie, Serena Ryder and A Tribe Called Red, among countless others. This year the festival takes place July 5-8 at Sudbury's Bell Park. So far the festival has announced Lisa Leblanc, Jane's Party, Mama's Broke and Sheesham & Lotus & 'Son and is thrilled to share more of the lineup. The final announcement (including 2 more headliners) is yet to come! 
Saturday Headliner Announced: Alvvays
Headlining NLFB's Saturday night is Canada's fastest rising indie band, Alvvays. In an interview with Diffuser.fm, the group's singer-songwriter, Molly Rankin, described her music as "If old people ask, I say it sounds like the Cranberries. If young people ask, I call it jangle pop. If a punk asks, I say it's pop." Alvvays hit the ground running with their self-titled debut album in 2014 and landed on numerous year end best-of lists including Pitchfork, Rolling Stone, Exclaim! and CBC Music. Their sophomore album, Antisocialites (2017), builds on tha momentum and presents itself as a manic emotional collage about drinking ('Forget About Life,''Hey'), drugging ('Lollipop (Ode To Jim)'), and drowning ('Already Gone'). To write the album, Molly Rankin traveled to Toronto Island working in an abandoned classroom by day and sleeping a few feet from shore at night. Its dreamy-pop melodies and introspective lyrics detail a world of ice cream truck jingles and radiophonic workshop noise. But even with their darker content, Alvvays remains a summer essential, continuing to amass fans, wow critics, and play major festivals across the globe.
NLFB 2018 Adding Thursday Evening Lineup
Why have only three days of festival when you can have four? As NLFB Executive/Artistic Director, Max Merrifield, explains, "Last year clearly demonstrated that people want more festival, so we are bringing Thursday back." NLFB 2017 broke an attendance record while attracting over 11,200 attendees. This year, the NLFB team is building on that momentum to make 2018 the biggest edition yet. What does a Thursday lineup mean for the festival? More artists, more variety, more activities, and more surprises.
Iskwé Coming To NLFB
Named 'Top 10 Canadian Musicians You Need to Know' by CBC Music, Iskwé (meaning 'woman' in Cree) is bringing her empowering music to the festival stage. The Cree/Dene and Irish singer's artistry knows no bounds as she honours her diverse heritage while standing strongly in her viewpoints. Iskwé's track 'Nobody Knows' acts as a rallying cry as she shines a chilling light on missing and murdered Indigenous women in Canada. Her politically-charged and fierce album The Fight Within recently received a Juno nomination for Indigenous Music Album Of The Year. NLFB is excited to add Iskwé's passionate energy to the lineup.
From Iconic Canadiana to Emerging Canadian Artists
Northern Lights Festival Boréal prides itself on presenting the best of Canada's musical makeup each year. Our 2018 lineup is filling up with notable Canadian acts including one of Canada's leading contemporary folk artists, Connie Kaldor. Kaldor's unique gift for songwriting and performing will lead NLFB audiences through laughter, nostalgia, and at times, deep emotion. In the same folk vein, Northern Lights is also excited to present Russell deCarle, former lead vocalist and bassist of Canada's iconic roots-country band, Prairie Oyster. DeCarle's new songwriting journey combines skillful songwriting,  southern soul and restrained balladry, with obvious influences of jazz, blues, old-school country, and western swing.
After her electrifying performance at Northern Lights 2013, Cécile Doo-Kingué is back for another festival appearance. A first generation Cameroonian, born and raised in New York City, Doo-Kingué is now settled in Montreal. She is considered one of Canada's leading blues artists and most versatile guitarists blending blues, afro-roots and soul. Watching her impeccable fretwork paired with socio-political lyrics is sure to be a cathartic experience—or perhaps something even more powerful.
For festival goers craving some hazy, summer day indie rock, Aron d'Alesio, is set to sway audiences with his washout guitar and ethereal melodies. The Young Rival singer and guitarist is inspired by early rock n' roll and his self-titled debut album has been described as a modern David Lynch film soundtrack. The Hamilton-based artist isn't the only one scheduled to rock audiences, festival favourite and Sudbury heroes, Murder Murder will be back on the NLFB stage, armed with acoustic weaponry and a suitcase drum. Just arriving back from a European tour, this outlaw country and bluegrass band has been gaining worldwide recognition for their latest album, Wicked Lines & Veins.
African Music Styles to Float Through Festival Air
Northern Lights is a place where sounds, styles, and cultures mix to make a brew of truly unique content. Although NLFB isn't subscribed to one central theme this year, its lineup explores a vast variety of genres, including music from Africa. "For the past few years, I have been fascinated with various styles of music from the African continent," explains NLFB Executive/Artistic Director, Max Merrifield, "I wanted to share that sincere love with the festival audience."
With that in mind, NLFB is excited to present Laetitia Zonzambé, an undeniable leader of African music in Canada. Moving from the Central African Republic to Montreal in 2009, Zonzambé's music connects traditional accents from the Bantu region of Africa to modern influences of soul, funk, pop and R&B. Whether she sings in Central African languages, French or English, Zonzambé will take the NLFB audience on a musical journey of propulsive rhythms, emotional ballads, and transcending melodies.
Afrikana Soul Sister is expected to be the dance party of the summer with their earth-shaking, electro-afro-house beats. This genre-bending quartet brings together the sharp electronic production of Jean-François Lemieux with undeniable voice of Malian singer Djely Tapa, heiress to a long tradition of music excellence in Mali. Add some African percussion specialists and the result is an intoxicating Montreal-style dance party, with Authentic African roots. Afrikana Soul Sister will fill you with joy, and an overwhelming desire to dance your face off.
Stay tuned as NLFB intertwines more music from Africa in the lineup. "The goal is not to represent the entirety of the continent through music (that would be impossible), but simply to share some of this amazing music that has inspired and excited us," Max Merrifield comments.
And there's more!
Year after year, both audiences and artists rave about NLFB's diverse lineup. One moment you are watching a folk duo or maybe a 10-piece blues band, and the next you find yourself in front of a Russian gypsy punk band or an Indigenous DJ set. This decades-long promise of bringing unique artists to the north is in full effect this year. Canadian Folk Music Award winner and NOW Magazine deemed 'Artist to Watch', Abigail Lapell is bringing her modern twist on folk tradition, while the rugged folk-country of Richard Inman will bring his gritty storytelling to the stage. Nothing can compare to the guitar mastery of the Guitars Alive Quartet, a group of Sudbury guitar masters, all simultaneously playing different styles of guitar. And you don't want to miss out on Montreal's gypsy-folk-pop band, Les Barricades or Rodney Meilleur, a bilingual, Sudbury based kids performer. Plus you'll catch other great Northern Ontario artists like Frank Deresti & The Lake Effect, JoPo & The Rize and Edouard Landry.
Ticket Prices To Increase:
Make sure to get your tickets now! Prices are going up to $90 at midnight on March 26th ($15 difference). Get them while they are still $75. Camping & accommodations packages are coming soon. Tickets can be found at nlfb.ca.
Northern Lights Festival Boréal: Inventing tradition, fostering innovation, celebrating community, since 1972.